Arsenal and Liverpool Get Boost in Pursuit of Swansea Striker Wilfried Bony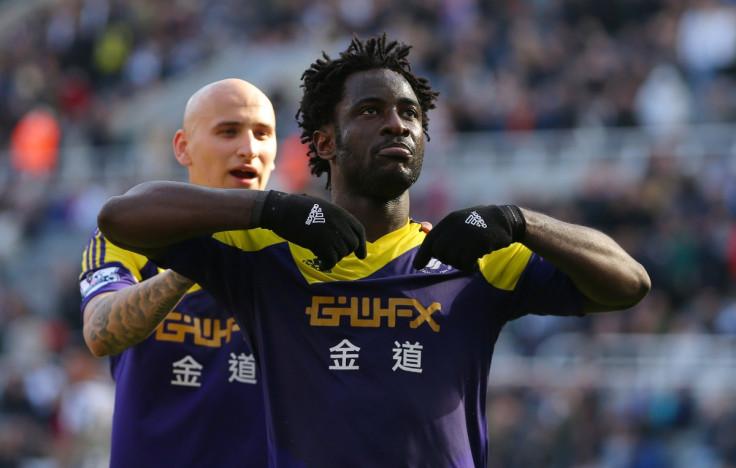 Arsenal and Liverpool have been handed a significant boost in their attempt to sign Wilfried Bony from Swansea City after his agent revealed that the striker could consider leaving the Welsh side only for a top club in the Premier League or abroad.
The 25-year-old is reportedly a target for Arsenal and Liverpool in the summer transfer window as their respective managers Arsene Wenger and Brendan Rodgers are looking to bolster their squad ahead of the upcoming campaign.
The Ivorian international came to English football with the reputation of being a prolific goal scorer for the Dutch side Vitesse Arnhem, where he plundered 37 goals in 36 appearances in all competitions during the 2012/13 season.
Dalibor Lacina, Bony's agent, claims that Newcastle United refused to sign his client for £10m last summer before he made the switch to Liberty Stadium in a £12m deal. He also suggests that the Magpies are not the type of club the striker would prefer playing for anymore, pointing out the Ivorian's current value to his prospective suitors.
"We have a certain strategy. Bony is in a totally different place to Newcastle and wants to move to a club with ambition. We have had no contact with Newcastle. The next step for Bony is a top-six team in England or a top team in Germany, Spain or France, or he will stay with Swansea," the Express quoted Lacina as saying.
"They [Newcastle] could have signed him for £10m, but they said they weren't sure if he was good enough, that he was only playing in Holland."
"I told them that he would score goals wherever he played but it was only Huw Jenkins [the Swansea chairman] who took the risk. Now he is worth £20m."
"I know Wilfried. I brought him over from Africa and I know what he can do. I used to be a player and coach myself."
"Newcastle is a traditional, fantastic club but they are always the same with transfers. I was in contact with them a couple of years ago over Tomas Ujfalusi, who played for Atletico and Fiorentina, but it was a similar story," Bony's agent concluded.
In his first Premier League campaign, Bony netted 27 goals while making 50 appearances in all competitions for Swansea. He is currently on duty with the Ivory Coast squad at the World Cup in Brazil, where they face Japan, Colombia and Greece in Group C.
© Copyright IBTimes 2023. All rights reserved.