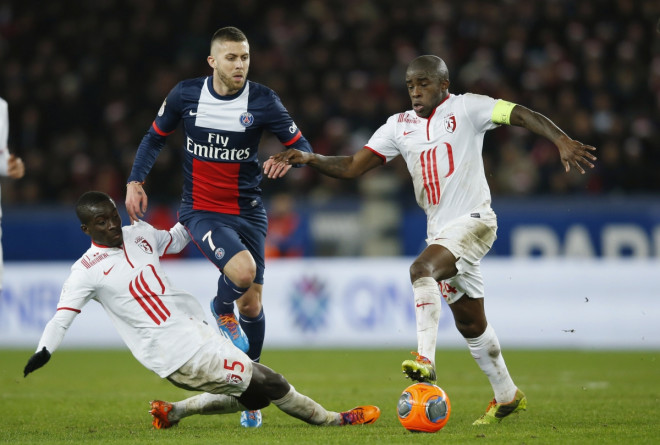 Arsenal and Liverpool have been handed a massive boost in their pursuit of signing Jeremy Menez after the midfielder confirmed he will leave Paris Saint-Germain in the summer.
The 26-year-old's contract at Parc des Princes runs down at the end of the season and will be available for free in the summer transfer window. The French international has long been linked with a move to the Merseyside club, with the Gunners also monitoring Menez in recent times.
Menez featured regularly for PSG under their former manager Carlo Ancelotti last season, making 30 league appearances. However, the Frenchman's his playing time has reduced under Ancelotti's successor Laurent Blanc during this campaign.
He has only started in six league games this season and will leave the Ligue 1 champions for free in the summer.
"I had back surgery last summer and, when I was fit again, the coach made his choice. (Former coach) Ancelotti was closer to his players – you felt important with him. Laurent Blanc has a different way of managing," the Metro quoted Menez as saying.
"I am a little misunderstood at PSG. I am looking for a team that would make me rediscover the pleasure of playing football."
Arsenal and Liverpool could find it tough to persuade Menez to make a switch to England in the summer. The French midfielder has set his sights on returning to Serie A next season.
Menez joined PSG from AS Roma in 2011. He has not ruled out the possibility of making a return to his former club, while also expressing his interest in signing for Italian champions Juventus.
"I had a great time in Rome. I already speak the language. I know Serie A, I know everything about it. The adaptation would be easy. Juve is a team that I really like – one of the best in Europe," he said.
"It has a quality workforce, consisting solely of champions – including in my position. But competition does not scare me," Menez concluded.
Menez is allowed to enter into pre-contract negotiations with a club outside Ligue 1 as he is in his final four months of his contract.