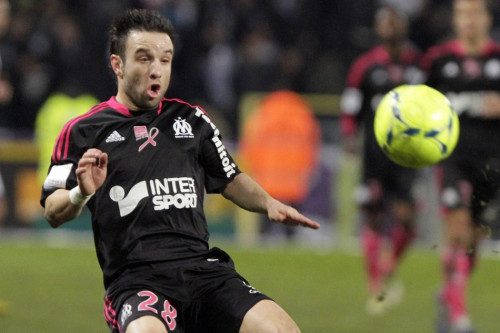 Marseille's Mathieu Valbuena says he would be open to a move abroad at the end of the season, alerting Liverpool and Arsenal to his services after the pair were linked to the playmaker in recent weeks.
Valbuena has been an integral part of Marseille's line-up this season, featuring for the side 22 times and solidifying his place in the France national team in the process.
The Bruges-born player suffered a shoulder injury in December and is slowly making a comeback but his value doesn't appear to have diminished with a number of clubs monitoring his progress.
Liverpool and Arsenal have both been linked with possible January swoops and while the 29 year old insists he wants to stay with Marseille to continue to receive game time in preparation for Brazil he admits a summer move abroad is tempting.
"A departure? To discover something else next season could be interesting," the 29-year-old told French television.
"My goal is to make a great second half of the season in the club and make a great World Cup.
"It's been eight years since I am here at l'OM. I've never hidden that an experience abroad tempts me. We'll see."
Monaco are also believed to be interested in Valbuena and the attacking star would certainly be tempted by a move to a side challenging for trophies.
Marseille are currently seventh in the Ligue 1 table and are eight points off a Champions League spot as the January window hits the middle point.
And with the World Cup so close, Valbuena will certainly have a chance to impress on the biggest stage as he continues to draw attention from clubs locally and abroad.
Fellow Frenchman and Arsenal star Bacary Sagna recently gave a glowing report of Valbuena as the Gunners faced Marseille in the Champions League group stages, telling Arsenal media: "He is quite difficult to catch. He is really small and moves a lot. He creates a lot of chances so we need to be on form that day and we need to play our way, dictate the game and show we are Arsenal.
"[Marseille's French internationals] could easily play for Arsenal. I think technically they are at the top and they have a lot of quality and they are used to playing big games. We've talked about the game and they are ready to play against us."