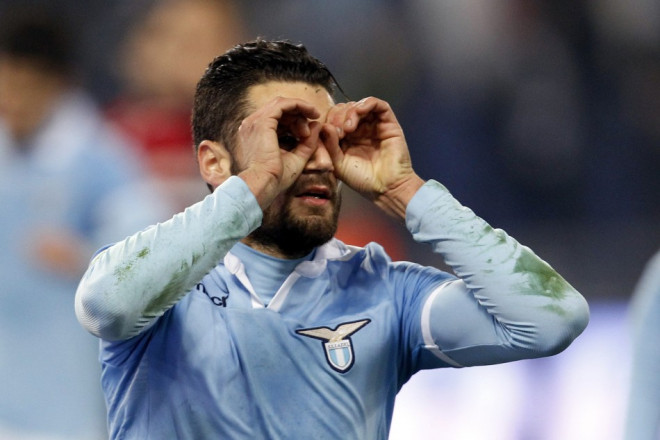 Liverpool, Manchester United and Arsenal are keeping a close eye on Lazio midfielder Antonio Candreva and are prepared to move into battle for the player in the summer, according to the Daily Express.
The midfielder has made 28 appearances this season for Lazio, scoring seven goals and assisting five and is also part of the Italy national team travelling for the 2014 FIFA World Cup in Brazil. The 27-year-old is partly owned by Udinese and the Serie A club is trying their best to reach a deal with Lazio over the ownership of the player.
The player has already entered his final year of contract with Lazio and should they fail to come to an agreement with the player, the Premier League giants are swarming to swoop in and give Candreva the option to move to England, with a sumptuous hike. The midfielder is known for his versatility as he can play as winger, in midfield and also up top if need be.
All three clubs are willing to splash the cash in the summer as Candreva will give them a plethora of options across the field, something Arsenal and United have discerned the importance of this season.
Meanwhile Arsene Wenger believes that the fight that Arsenal showed against Manchester City will help them end the season strongly. The Gunners lost their way after leading the table for a major part of this season and are currently struggling to keep their position in the top four.
"We will fight until the end. This team has qualities; it has quality on the pitch and quality in attitude as well, and it will do that until the end. It just shows that we have absolutely to fight until the end of the season because everybody can beat everybody. Chelsea lost today at Crystal Palace, so that means all of us have to be careful and consistent," Wenger told www.arsenal.com