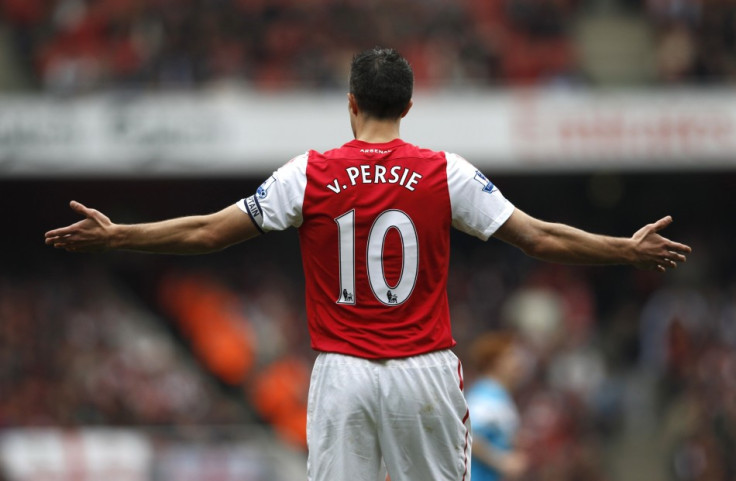 Arsene Wenger has admitted Arsenal will have to sell a few players before they can sign new faces this summer. The news might not go down well with the club's supporters, who are already disappointed with skipper Robin van Persie's announcement that he will not sign extension to his contract, which runs out next year.
Arsenal have signed forwards Lukas Podolski and Olivier Giroud so far in this window and have released goalkeeper Manuel Almunia, while midfielder Denilson and striker Joel Campbell have gone out on loan. Several other players have been linked with moves away from the Emirates Stadium but Wenger revealed that there hasn't been much progress.
"We are still looking to add one or two players but it depends also on how many go out because we have to respect the squad number. It's important to respect that so before we get players in we have to get some players out. That has not happened yet, the market is very quiet. I cannot tell you anything concrete about the situation [regarding those who might leave] because if they are not finding clubs they will stay here and be players of the squad. At the moment I cannot give you any concrete or clear indication," ESPN quoted the Frenchman as saying.
Meanwhile, Sir Alex Ferguson has confirmed Manchester United are interested in signing van Persie this summer. Any doubts over the Dutchman's immediate future increased on Friday, when it was reported the Arsenal skipper would not be joining the club on their pre-season tour of Asia.
United's initial bid for van Persie was knocked back but the Red Devils are expected to return with an improved offer soon. Ferguson revealed he was keen on adding the 28-year-old to his ranks but also admitted he was facing tough competition in his attempts to pair last season's Golden Boot winner with Wayne Rooney.
"Obviously Arsenal have given out the fact that we've made a bid for him. We try to keep business as close as possible to us until the moment we conclude a deal. There's no point talking about something that might not happen. There are other clubs interested in the player. We've shown an interest and that's where we're at the moment," United's official website quoted the Scot as saying.
Former Arsenal player and manager George Graham recently tipped United as favourites to land van Persie. The Gunners have reportedly rejected bids for the Holland international from Premier League champions Manchester City and Serie A winners Juventus as well, while fellow Italian giants AC Milan are also reportedly interested in signing last seasons' PFA Player of the Year.
Wenger said even though he has not given up hope of trying to keep van Persie for another season, he has realised that he might have to let the player go, keeping the club's best interests in mind.
"For me, van Persie is one of the best strikers in the world, if not the best, and my desire is to keep him at the club. As for the rest I will do what is in the best interests of Arsenal Football Club. That, at the moment, is where we are. There is not a lot more to say than that," the club's website quoted Wenger as saying.