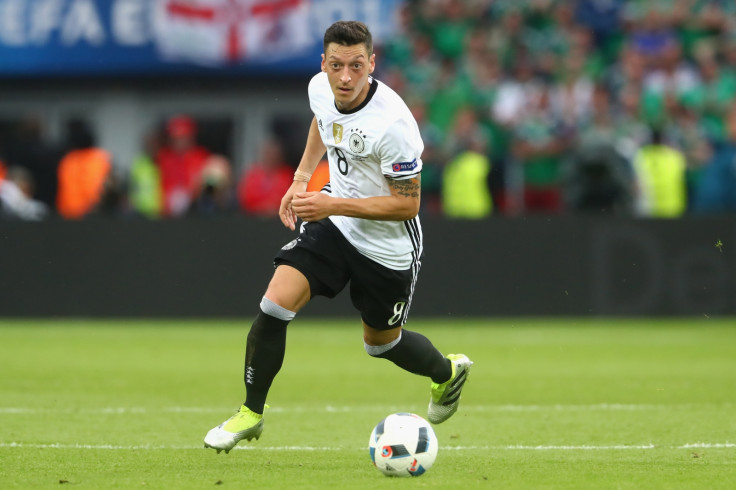 Arsenal and Germany midfielder Mesut Ozil insists that he is similar to Cristiano Ronaldo in the way that he has the same desire for success as the Portuguese international. Ozil played alongside Ronaldo during his time with Real Madrid but conceded that he is not as hungry for goals as his former teammate.
Ronaldo has scored two goals thus far in the Euros, both of which came against Hungary in the group stages, which led them into the round of 16. In contrast, Ozil has managed only one assist in four starts for Germany who look to get the better of Italy in the quarter-finals of the European Championships.
The Arsenal man came to the Euros on the back of his most successful season with the Gunners, leading to 19 assists in the league, more than any other player. Ozil iterated that like Ronaldo he is not happy with failure and wants to win everything, even on the training pitch. The duo may face each other should they progress into the finals in France, with Portugal pitted against Wales in the semi-finals, while Germany will face either of France or Iceland should they get past Italy.
"Cristiano Ronaldo is obviously very ambitious, but so am I," the Germany international told L'Equipe, as quoted by Goal. "I am a perfectionist on the pitch as well. I want to be successful with everything I do.
"During the time I played alongside Ronaldo [at Real Madrid], I saw that he always wanted to win everything, even on the training pitch. He is never satisfied and always wants more. He always wants more titles and there are not a lot of players with that attitude.
"Personally, I am not as hungry for goals like Ronaldo. But that's only normal. He is an attacker. For me, scoring goals and providing assists is the same. They both win you matches."