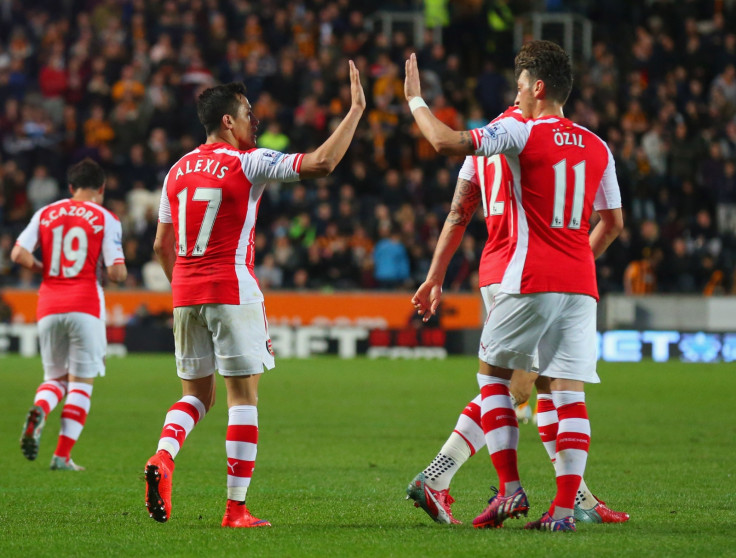 Arsene Wenger believes Mesut Ozil's mesmeric performance against Manchester United has set the tone for the rest of the season and the German has to take that performance as a benchmark when approaching other games. The World Cup winning midfielder piled up a goal and an assist in the opening 20 minutes, when the Gunners tore through Louis van Gaal's side, scoring three goals and ending whatever chance United had of having a foothold in the game.
Ozil has been heavily criticised since his move from Real Madrid over his inability to influence big games but Wenger believes that his performance against United will answer his critics. The manager wanted him to share the goal-scoring burden, having come into respectable positions thus far this season but failing to find the net. His goal against United will give him some much needed confidence and Wenger is hopeful that it will open the gates for more to follow.
"You want Mesut to score as well in a big game and he did that against Man United," Wenger told Arsenal's official website. "When you are an offensive player that is an important part of it.
"I believe there are goals in him and in that game he has shown it. I think it can increase the belief and the hunger of the team. On the other hand you have to show that you can come into every game with that focus."
The game saw Alexis Sanchez continue his goal-scoring form, taking his tally of goals to six in his last three matches with the Gunners. The Chilean was at it with his national team, where he scored three in the two qualifiers against Brazil and Peru. However, Wenger has second thoughts over his ability to take the field against Watford, with the South American having suffered a groin injury during the game against United.
Chile manager Jorge Sampaoli confirmed that the player was in pain but insisted that the games were too important for a player like Sanchez to be left out.