Arsenal midfielder Mesut Ozil has revealed that he works on his weaknesses everyday so that he can become a better player and help the Gunners in the long run. The midfielder has added goals to his game this season and scored his first professional hat-trick against Ludogorets at the Emirates and followed that up with the winner in the reverse fixture.
The German has been among Arsenal's most consistent performers this season and is currently on a mini break after being given a rest by the national team for the international fixtures over the next two weeks. Ozil revealed that he is working on his weaknesses in the meantime in order to keep himself up to date with the rigours of the Premier League.
"I think it's really important [to keep working]," he told Arsenal's official website. "If you want to develop as a footballer, you have to work on your weaknesses every day. You have to have talent but of course nobody is perfect, and you have to work hard to minimise those weaknesses as well as you can. I'm working hard on that - for example, I'm not ambidextrous, so I'm working on my right foot too.
"Especially if you play in the Premier League, you have to look after your body because the matches are very demanding and you have plenty of matches. That's why you have to work hard, to make sure you stay fit. I knew that if I moved to Arsenal, I would develop myself further, especially under the boss. I'm on a good way, the team really supports me, the manager gives me his trust and you see that I enjoy myself on the pitch."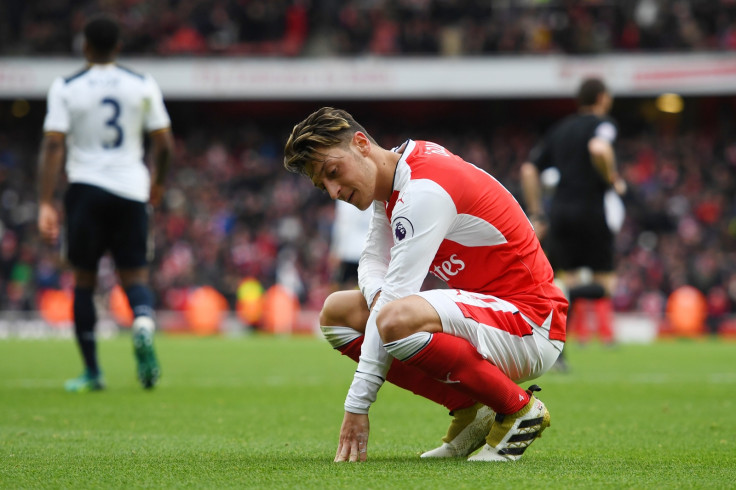 The Gunners are currently fourth in the table, two points behind leaders Liverpool following their 1-1 draw with Tottenham Hotspur at the Emirates. They face Manchester United next at Old Trafford as Arsene Wenger looks to abolish his league hoodoo with Jose Mourinho.