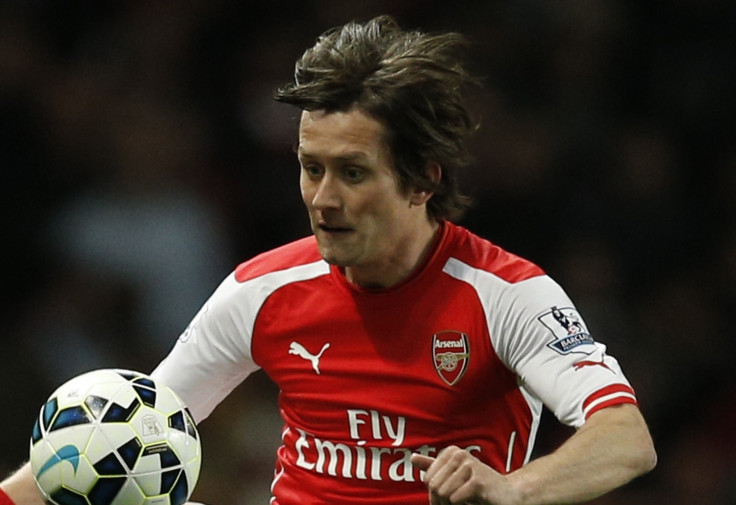 Arsenal midfielder Tomas Rosicky admits he is still frustrated over his reduced role at the club but will remain focused on helping the north London side challenge for the Premier League title next season.
The Gunners exercised an option to extend Rosicky's current deal by one year in May but the 34-year-old featured in just one of the club's last 10 games of the season, starting just eight in all competitions.
Earlier in June, the Czech Republic international made his frustration known, criticising Wenger's decision to activate the clause in his contract only to still deprive him of a role in the first team.
But speaking at the launch of Arsenal's new home kit, Rosicky insists he is now determined to keep fighting for a first team role at a club he remains very loyal to.
"My focus is here. I have another year left on my contract," Rosicky said, Sky Sports reports. "It was a difficult time for me. It is never easy when you are not playing at all and you end the season in the stands.
"Is there a frustration? Of course there is a frustration because I think I can still help the team to be better. On the other side I have been here nine years and I have always said I love the club. I don't think I have to prove to anyone how I feel about Arsenal and how loyal I am to this club. Of course it is not going well for me at the moment. It is disappointing but I will not give up easy. I will fight."
Rosicky watched on from the sidelines as Arsenal celebrated a second consecutive FA Cup success in May. It marked a spectacular second half of the season for the club but their slow start to the 2014-15 season meant any hopes of challenging for the Premier League title were over before they could even start.
Having seen how well the club operate with consistency to their game, Rosicky now believes it is time for the club to build on their cup success.
"We don't want to just be third and win the FA Cup," Rosicky said. "Obviously, it's a solid season when you win the FA Cup. You could see the progress in the team after December. Consistency is key for any title challenge and that is what we have to show through the whole of next season. The potential is there for this side to challenge for the title."