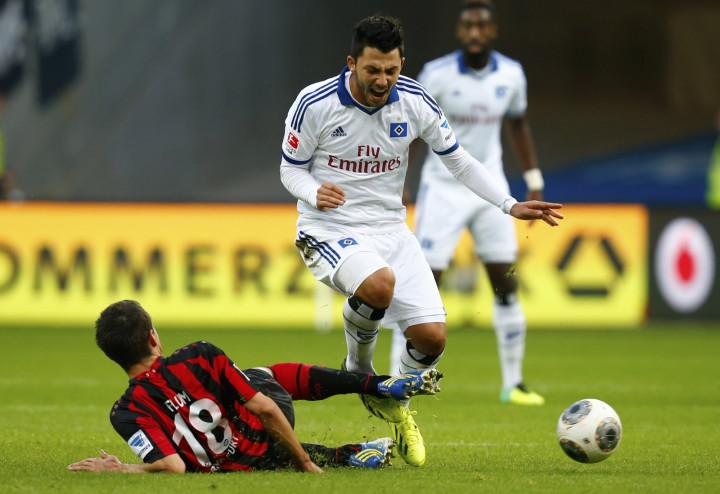 Arsenal are reportedly tracking Hamburg midfielder Tolgay Arslan, who is on the final year of his contract with the Bundesliga club.
According to the Daily Mail, Arsene Wenger has made his interest known and the club have sounded out his representatives with regards to a move next summer.
The report claims that the midfielder is not going to renew his contract with the struggling Bundesliga outfit and is ready to make a move to the Premier League. It is believed that the midfielder can be convinced to move to north London with an offer of around £40,000-a-week.
The Gunners boss has been linked with many defensive midfielders over the recent months and Southampton's Morgan Schneiderlin and Real Madrid's Sami Khedira's names have been doing the rounds among others.
Wenger is keen to bring in an all action ball playing midfielder to protect his back four, as he continues his search for a long-term replacement for Mikel Arteta, who is playing the role currently. Wenger is not convinced that backup option Mathieu Flamini is up to the task.
Arslan was born to Turkish parents in Germany and has represented Turkey in U19 and U20 levels, but has more recently opted to play for the country of his birth and has represented Germany at U21 level.
Meanwhile, Wenger has praised midfielder Jack Wilshere on his impressive performances for England and believes that the positive impact of the international break can be carried forward into the league.
The Frenchman has admitted that he sees the Englishman further up the field unlike England boss Roy Hodgson, who has been playing Wilshere as a deep lying midfielder for the Three Lions.
However, Wenger has no qualms about the midfielder playing in a deeper role, as he feels it will help him develop his all-round game.
"Wilshere has also shown he is a modern midfielder who can defend and attack. he can play tactically, he is very intelligent Jack and can play in that position. As well he is a big threat in the final third, so it is important that he does not lose that," Wenger said, as quoted on Arsenal's official site.
"If England need him there, he plays there, but he can play in different positions. Higher up front is maybe a bit more natural for him, but it is good for his development to play in a deeper position as well," the Frenchman added.