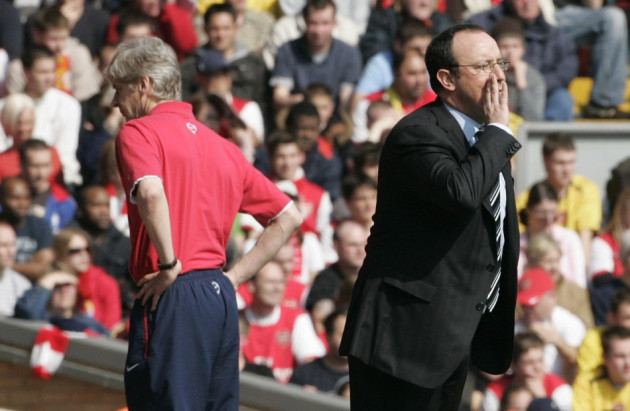 As Arsenal prepare to face a Napoli side full of confidence IBTimes UK decided to examine the key battles that will take place both on and away from the pitch, from the tactical nous of messieurs Wenger and Benitez to the midfield battle between a reinvigorated Aaron Ramsey and the Slovakian maestro Marek Hamsik.
Both sides sit top of their respective leagues and whoever gets the best of these individual battles will go a long way to deciding who leave the Emirates the happier.
The Battle of the Professors: Wenger v Benitez
Both managers have spent plenty of time praising one another before this crucial Champions League fixture which is perhaps unsurprising given their similar approach to the game. While they may differ in the football they produce on the pitch, Arsene Wenger preferring free flowing football while Rafa Benitez sees solidity and counter-attacking as key, they are both tactically astute.
In Europe Benitez is a shroud tactician who has plotted shock results with limited sides. But now he has a Napoli team full of attacking flair and great promise. He will look to soak up any Arsenal pressure and then break at great speed with the likes of Marek Hamsik, Lorenzo Insigne and Gonzalo Higuain.
Wenger on the other hand will want to control the middle of the park in order to make the most of his vast array of creative talent which now includes Mesut Ozil and an inspired Aaron Ramsey. With Jack Wilshere also able to control play, Arsenal will want to present Olivier Giroud with plenty of opportunities to extend his fantastic scoring run.
The Hitmen: Giroud v Higuain
Had Arsenal put all their efforts into signing Gonzalo Higuain rather than Mesut Ozil then the Argentinean could well have been lining up alongside Olivier Giroud. Instead he will look to continue his excellent scoring run which has seen him score five goals in just seven games. The former Real Madrid striker offers wonderful movement and genuine pace. At times he can be erratic in front of goal but given opportunities he has an envious record that normally sees him get close to 30 goals in a season.
Wenger will hope his inability to complete a deal for Higuain does not come back to haunt him and fortunately he can call on his own prolific hitman. Giroud has four goals in six league games and has demonstrated a wonderfully deft touch in front of goal. He may be a tall and powerful striker, but his left foot possesses real quality and his link up play with Ozil has been a revelation.
Efficiency Faces the Flamboyant: Ramsey v Hamsik
Ramsey has quite simply been a revelation this season. Having finally overcome the mental scares of his horrific injury back in February 2010, the Welsh midfielder has quite simply outperformed Ozil and WIlshere in the Arsenal midfield. He may have been making the headlines due to his goals, but his overall performances have been outstanding. He has made important tackles, controlled the game with his precise passing and general led from the front.
While Ramsey exudes efficiency, Marek Hamsik has flair and style. A true extrovert with his spiky Mohawk making him instantly recognisable, but his play similarly catches the eye. Blessed with outrageous talent, he controls the game for Napoli, often producing the killer ball or a wonderful strike to finish off a move. Stopping him will prove vital for Arsenal's chances of gaining a victory.