Arsenal midfielder Abou Diaby insists that he is not the type of player to replace Alex Song.
Gunners boss Arsene Wenger suggested that the 26-year-old - who was the man of the match in the club's 2-0 victory against Liverpool at the weekend - could replace anchorman Song who joined Barcelona last month. But the France international feels he plays more like Manchester City' Yaya Toure.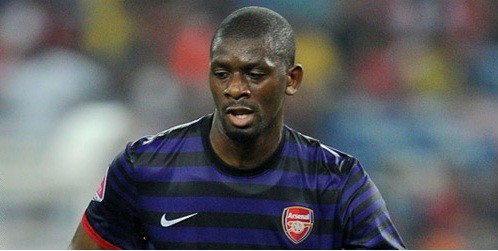 "In our teams, Yaya Toure and me have very similar roles. I am not like Alex Song. We have many players who can take his place like Francis Coquelin or Mikel Arteta, who likes to play deep. I want to get forward - that's me. I have defensive duties as well so I need to have good shape defensively and, as soon as we get the ball, go forward," Goal.com quoted Diaby as saying
The midfielder has been called up by new France coach Didier Deschamps for the World Cup qualifiers against Finland and Belarus. Diaby has not played for Les Blues in more than a year, after being sidelined with injuries and making just five appearances in all competitions for Arsenal last season.
Diaby said he is delighted to be playing for the club and country again after the long spell away through injury and is now hoping that his days on the sidelines are well behind him.
"Mentally it was a hard time but I love football. Football is my passion so it doesn't matter what happened, I need to look forward and that is what I have done in this situation. I am really happy to play again. When you play in these type of games [against Liverpool], it is really exciting and you need to be ready. I am really happy and I hope I can keep going in that way. The main thing is that I need to get my confidence back so I need to go in for challenges. We did that really well on Sunday," the club Web site quoted Diaby.