Werder Bremen striker MarkoArnautovic claims Arsenal have no chance of beating Bayern Munich in the Champions League on Wednesday evening.
The Gunners travel to the Allianz Arena (read the IBTimes UK preview) to play the second leg of the two clubs' knock-out tie, trailing 1-3 from the first match at the Emirates. And Arnautovic believes Jupp Heynckes' side will once again be superior to Arsene Wenger's charges.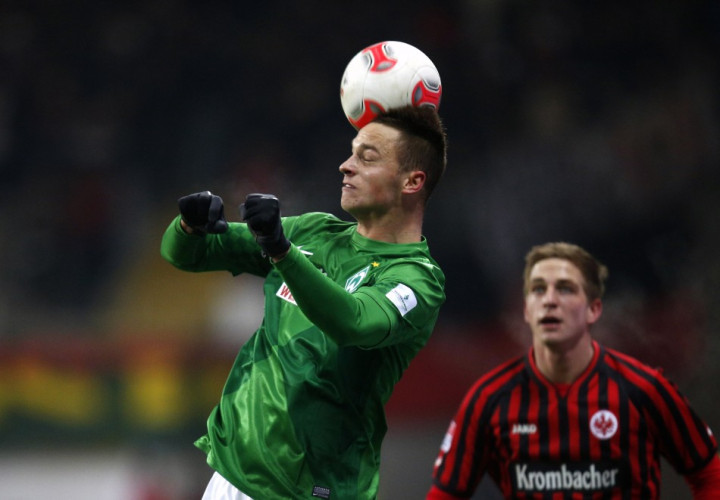 "Arsenal started the first game well but I was not surprised Bayern won in London. They dominated and the result was perfect. They are 20 points ahead in the league and, after they get past Arsenal. I expect them to reach the final," the 23-year-old Austrian international told talkSPORT.
Arnautovic was part of the Bremen side who were thumped 6-1, in a Bundesliga game, in February and the forward believes the Gunners can expect a similarly rampant Munich on Wednesday.
"I've played against Bayern and seen a lot of them on TV. Bayern play two games a week and you never see them tired. They give everything in every game and that's why they are so successful," he added, also pointing out that the general standard of football in Germany was better than the Premier League.
Arsenal's bid to set a Champions League precedent and qualify for the quarter final took a severe blow earlier, when influential midfielder Jack Wilshere was ruled out for three weeks. The young Englishman is undoubtedly one of Wenger's most important players and the Frenchman would have relied on the England international's passing, ball skills and control of the midfield to counter the threat of Bayern's array of attacking talent.
Nevertheless, Wenger believes his side can overcome the odds, produce a "big game" and eliminate Bayern Munich.
"I am convinced that if this team can find a big game, with a big win, you will see a completely different animal. This season we have fought to find that in the big games and we have another opportunity tomorrow night and I hope the team takes this chance," he explained.