Arsenal midfielder Jack Wilshere will make his much-awaited comeback for the Gunners in an U21 game against West Bromwich Albion at the Hawthorns this afternoon.
The 20 year old is expected to start the game against the West Midlands outfit and play an hour in what will be his first competitive match in over 14 months. The England international remained sidelined for the whole of last season after suffering an ankle injury in an Emirates Cup match against the New York Red Bulls in August 2011 and has since suffered multiple set-backs during his rehabilitation.
Wilshere also underwent a knee surgery in May that ruled him out of Roy Hodgson's Euro 2012 campaign. The youngster made a return to full training two weeks ago and Wenger now hopes the player will feature for an hour against the Baggies. However, the Frenchman ruled out the possibility of the midfielder making his England comeback against either San Marino or Poland later this month.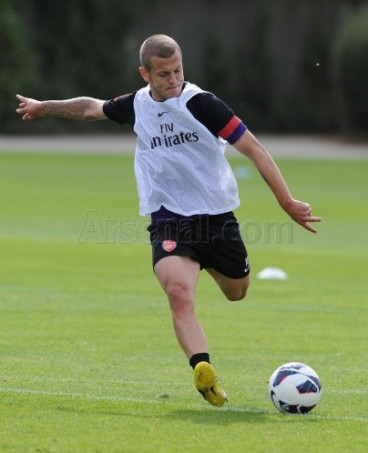 "Jack will play on Monday. He will play an hour. We have to be patient. It is fantastic for him. When you are at that age and are out for such a long time, it is absolutely massive. I think that [the England games] will be too early for him," Goal.com quoted Wenger as saying.
Wenger: Arsenal will Bounce Back
Wenger is also confident Arsenal will recover from the weekend's defeat to Chelsea. The Gunners' unbeaten start to the season came to an end in the league against their London rivals, who beat them 2-1 at the Emirates.
"The players are very frustrated. They have a great attitude, they are very disappointed. I can understand that. But I think we will recover from it. It can happen in the season, but they are disappointed because they lost a game they should not have lost. We played against a good side but they had three shots on goal and the two goals they scored, with my best will I cannot say they were fantastic goals. They are goals you have to stop," the club Web site quoted Wenger.