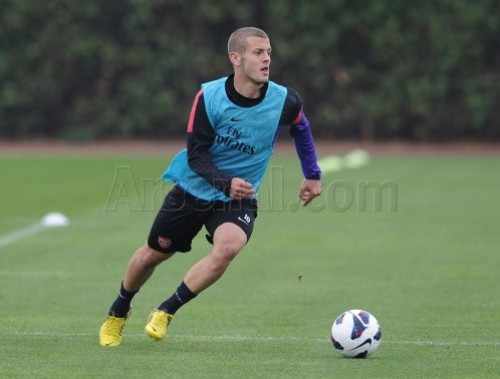 Arsene Wenger has admitted that Arsenal midfielder Jack Wilshere questioned whether he had a future in football during his 14 months on the sidelines. The 20-year-old made a long-awaited return to full training in midweek.
The England international has not played a competitive match since the 2010/11 season, after suffering an ankle injury last summer which led to a series of set-backs during rehabilitation. The injury ruled the youngster out of England's Euro 2012 squad and he has since been forced to undergo knee surgery.
"I am not medically expert enough to know how big the damage was in his ankle. It [fear that his career could be over] never crossed my mind. Has it crossed his mind? Only he can answer that. [But] I think, yes," Sky Sports quoted Wenger as saying.
The French manager hailed the mental strength shown by Wilshere during his time on the sidelines and backed the midfielder to emerge from the difficulties with great resilience.
"When you are so young and out for 14 months that is a good test for your mental strength. On that front he has been absolutely brilliant because he had not only ankle surgery, but when he thought that was over he had knee surgery. He handled that very well, I must say," the 62-year-old said.
Wenger is also convinced that Wilshere will eventually be better than ever and played down comparisons with the case of former Gunners' striker Eduardo. The Croatian, who was bought in 2007 after Thierry Henry left the club, could not rediscover his sublime scoring form after breaking his leg against Birmingham City in 2008 and was sold to Shakhtar Donetsk two years later.
"Eduardo has limitation of his ankle. Jack has no limitation of his ankle as it was just a fracture. Eduardo had a rupture of his ligaments and in construction they had to tie his ankle up. Once you lose your flexibility of your ankle you are, of course, not the same player," the Daily Star quoted Wenger as saying.
"Jack is a very strong guy and had a stress fracture - and that happens many times to young players. It is certain he will be a better player. If you have this kind of injury at the age of 20 you will take off again and move forward normally. If you have the injury after the age of 25 it is different. At his age it is no problem," the Gunners boss added.