Arsene Wenger will have get a sizeable transfer budget for the mid-season window, according to Arsenal chairman Peter Hill-Wood. The Gunners have a reputation for being careful about finances and that prudence has seen the club post profits where other top clubs tend to announce huge losses. However, Hill-Wood stressed how any money is used - the Daily Mail reports he will have £35m in hand - will be left to Wenger's discretion.
"The financial results were good and we want to put that money to use if Arsene decides he wants more players but if the manager wants to ­reinforce the squad in January, he will be able to do that," the chairman explained, adding, "I like to think that the profit shows we are running the club on the right lines."
The north London club announced an operating profit of £32.3m for the year ending 31 May, with football revenues rising to £235.3m for the period. The cash and bank balances fell to £153.6m from £160.2m last year but the figure did not include money from the sales of striker Robin van Persie and midfielder Alex Song, which should boost it by around £40m.
However, while these statistics make pleasant reading, the provision detailed by Hill-Wood will give pause to any Arsenal fan celebrating the thought of big-name signings in January. Wenger is famously tight-fisted when it comes to splashing on big transfers, preferring instead to pick talented youngsters and turn them into world-class footballers. While this is a noble ideal, the fact the club has not won a trophy in nearly a decade irks some supporters, who believe prudent spending - to acquire a proven and experienced player to balance the squad - is a sensible thing to do.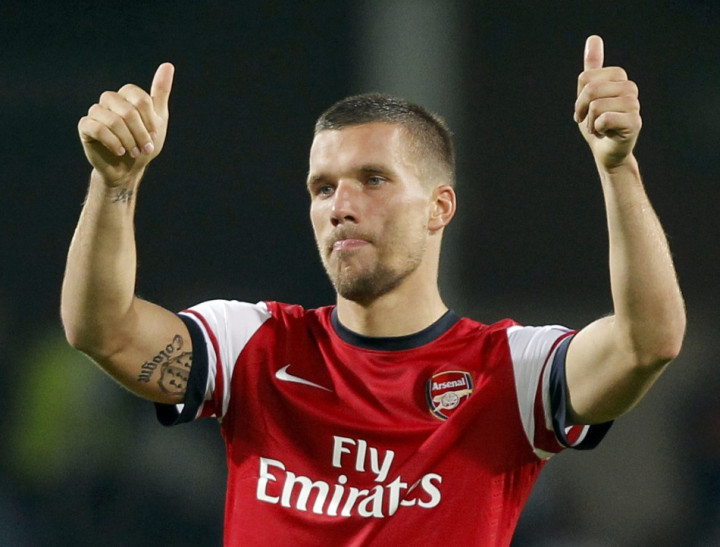 In fairness, Wenger does seem to have learnt from the past. The summer signings of Lukas Podolski, Santi Cazorla and Olivier Giroud have worked well in partnership with established young talent such as Abou Diaby, Theo Walcott and Alex Oxlade-Chamberlain. The measure of confidence the team now has in attack, as demonstrated against West Ham in their last game, is a direct consequence of the presence of proven internationals like Podolski and Cazorla.
So... will the veteran Frenchman continue his newfound spendthrift ways by dipping into the January market? That is unlikely. Wenger has often spoken about his reluctance to sign players mid-season, citing difficulties in integration and the fact that clubs are usually unwilling to release their best players in the middle of a season.
If he does move in the winter window though, reports suggest a very surprising target - Radamel Falcao of Atletico Madrid. The 27-year-old Colombian has been in explosive form this season (as he was last season, scoring 30+ goals for Atletico across all competitions in his first year in Spain) and his superb hat-trick against Chelsea in the European Super Cup final led to a lot of transfer talk. Chelsea themselves and Manchester City were reported as being interested in the player and there was talk that Chelsea had sealed a £48m January move. However, the Spanish club's president, Enrique Cerezo dismissed any talk of a move.