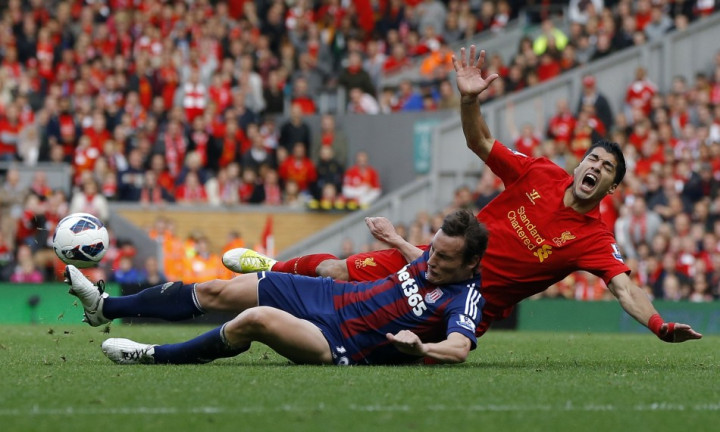 The French centre back added he disliked marking Suarez because of the former Ajax player's readiness to dive and kick.
"A striker that I hate to mark? Luis Suarez. He is hard to take. He cheats, pulls your shirt and gives you little kicks. You always want to give him a kick but you have to be careful not to be red carded," the 27 year old was quoted as saying.
The French international has had experience of what he claims is Suarez's propensity to dive, particularly at Anfield last season, when the South American appeared to dive to earn a penalty. The spot kick was saved, though, by Polish goal keeper Wojciech Szczesny and present Manchester United striker Robin van Persie scored a brace to give the Gunners all three points.
Suarez has found himself at the centre of a storm of controversy related to claims of diving, which erupted after Stoke City manager Tony Pulis called for FA action against the 25 year old, for diving during the Reds' league game against Stoke. The controversy has also drawn FIFA vice president Jim Boyce into its fold, with the Northern Irishman labelling the Reds' star a "cheat". The Liverpool player, who also endured a racism controversy last season after he was found guilty of abusing Manchester United left back Patrice Evra.
Meanwhile, Koscielny was involved in France's 0-1 home defeat to Japan in an international friendly. The Gunner started the game, alongside Paris St Germain's (PSG) Mamdou Sakho.
However, despite the disappointing defeat, former French international Marcel Desailly remained optimistic ahead of Les Blues' crucial World Cup qualifier against reigning champions Spain. And the former AC Milan star had special words of praise for Koscielny.
"He has good leg speed, which reminds me of Lilian (Thuram). The last time I told him to work in this field and he will become one of the best defenders in the world. He has a level o[f Nemanja] Vidic [or Gerrard] Pique. I mean that sincerely," he told French newspaper L'Equipe.