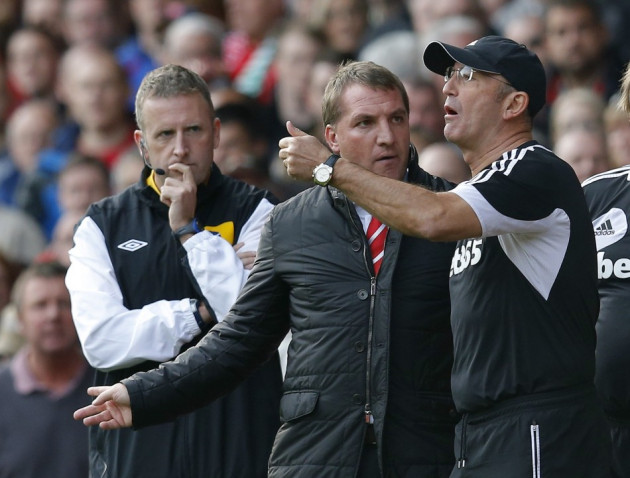 Stoke City manager Tony Pulis has hit out at Liverpool striker Luis Suarez for diving in the box to trick the referee into giving a penalty.
The Uruguayan appeared to take a rather theatrical dive when challenged by Marc Wilson and Dean Whitehead in Liverpool's Premier League draw with Stoke at Anfield. No penalty was awarded (neither was Suarez booked for diving) but Pulis is now insistent the FA review video evidence and take action against Suarez.
Stoke held the Reds to a goalless draw, the fifth time the Potters have shared the points this season, and remain in 12th place in the league, two points ahead of Liverpool in 14th.
"Retrospective decisions are made on a Monday and Luis Suarez should be punished. The one in the penalty box was an embarrassment and how he wasn't booked I don't know," the City manager explained after the match.
Liverpool manager Brendan Rodgers' response was diplomatic but supportive of his player.
"I haven't seen the incident so I can't really comment, but whatever Luis does there will always be a problem. It gets brought up every week whether it's with the media or refs, but I thought he was terrific today," he said.
The 25 year old former Ajax forward has had similar complains levelled against him before and this has led to Rodgers voicing his concern about his star striker's reputation. Rodgers believes, as he stated after the Reds' 5-2 hammering of Norwich City, Suarez' reputation may weigh against him when an actual penalty should be awarded... such as the one the former Swansea City manager felt should have been awarded when Norwich's Leon Barnett fouled Suarez in the box.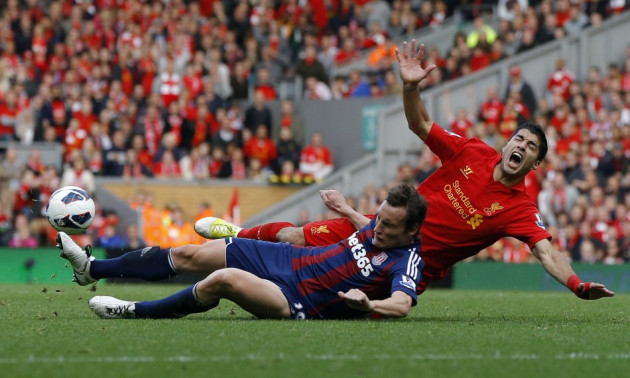 "There is that fear. I could tell you about three or four strikers who go down in the box with very minimal contact, and all of them have had penalties this year. Everyone in the ground saw it was a penalty. Apart from the referee," the Northern Irishman said after that game.
"I can't worry too much about it. It's something that hopefully the referees, when they analyse and assess their own performance, will have a look at. Hopefully these penalties that we don't get won't come back to haunt us," he concluded.
Suarez was booked for diving in the 1-1 draw at Sunderland and again appeared to dive in the 1-2 defeat against Manchester United, although he escaped a caution in that instance.
Meanwhile, United manager Sir Alex Ferguson hit out at foreign players in the Premier League for diving but defended his own team; both Nani and Ashley Young have had such accusations levelled against them. The United boss' comments came after those made by Manchester City striker Sergio Agüero, who said Premier League referees were biased against foreigners.
"It's not worth going into that subject because down the years there have been plenty of players diving, and you have to say particularly foreign players," Ferguson said after the defeat to Spurs, adding, in defence of Nani's penalty claim in the match, "Nani is not the type to dive, I know that. It was a penalty kick on Saturday."