Wenger Toughens Up, Warns Walcott to Sign Contract
Arsene Wenger has admitted England winger Theo Walcott may be sold if he refuses to sign a new contract in the next two months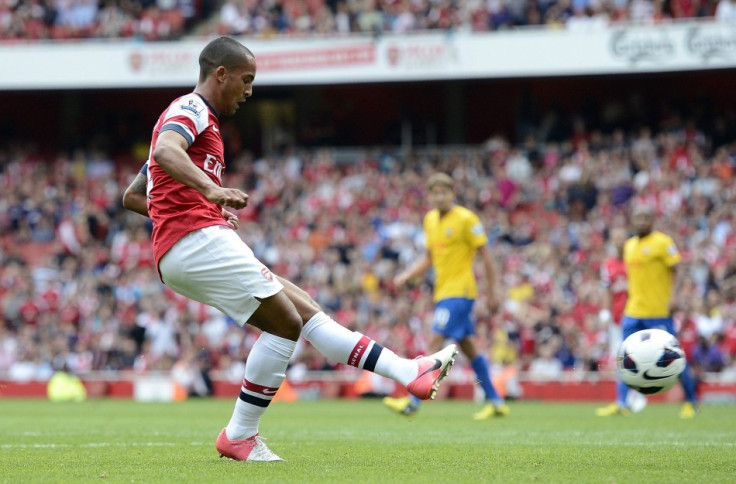 Arsenal manager Arsene Wenger has admitted that winger Theo Walcott could leave the Gunners if the player refuses to sign a new contract. The 23-year-old Southampton academy graduate was a regular in the Arsenal team last season but has been used sparingly so far this year, starting only one game.
"I haven't picked him, it's true, and it's quite a good question. I still hope to sign him and the next two months will be vital because, after that, the longer this situation lasts the more difficult it is," Wenger told the Mirror, "Let's hope we can find a solution in the next two months but the fact he doesn't play regularly at the moment is right, but it's not necessarily linked with his contract situation."
"At the moment, [Laurent] Koscielny doesn't play. He has just extended his contract and still doesn't play because the defence is doing well. That's only temporary because by the end of the season they will all play," the Frenchman added.
However, Walcott's case is not quite the same as Koscielny's. The pacy winger has already attracted attention from Liverpool, Chelsea and Manchester City in England, and from Juventus in Italy. There has also been reported interest from Russia, with Spartak Moscow rumoured to be considering a January swoop. The player's refusal to sign a new contract effectively means the club will be forced to sell him, regardless of his contribution on the pitch.
Walcott scored 11 goals in all competitions last year and helped create 12 others, playing a vital role in the Gunners' late but successful charge towards Champions League football. However, there are still doubts over his ability to become a consistently world-class player. He has often been described as lacking in tactical and positional awareness and his form tends to dip, sometimes alarmingly. In addition, he has also expressed a measure of unhappiness at being deployed on the wings while he prefers to play through the centre.
That last issue may be resolved this year, if Walcott does sign. Wenger has stated that he is looking to convert his wide men into strikers; Ivorian international Gervinho played in that position against Southampton to great effect. However, it all depends on Walcott's willingness to sign a new deal. If he doesn't, Wenger's newfound resolve to sell players he views as no longer loyal to the club may result in another established first-team player leaving the Emirates.
© Copyright IBTimes 2023. All rights reserved.