Arsenal youngster Alex Oxlade-Chamberlain believes the Gunners' experience will prove the deciding factor in the race for Champions League football next season. The Emirates club is locked in a three-way fight Chelsea and Tottenham for the two remaining qualifying places for next term's tournament. Arsene Wenger's men are presently third, a point ahead of both their London rivals but Chelsea have a game in hand.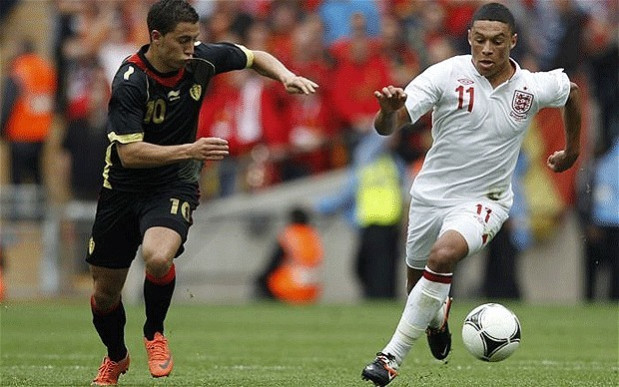 "[It] helps to know that we did it last season and we managed to squeeze in last season for the Champions League in the way that we did. Previous experiences can help you and contribute in the way that you feel in the season afterwards," the England international explained, adding, "The fact that we did it last season definitely helps our confidence to do it again this season."
Arsenal were in a similar situation towards the end of the 2011/12 campaign, having been knocked out of both the Champions League (by AC Milan) and the FA Cup (by Sunderland) and left with only a top four Premier League finish to target.
At the time, the Gunners were seventh in the league and considerably behind their north London rivals. However, a run of nine wins in 10 games between early February and April propelled them to third, which is where they finished the season. The run included a superb 5-2 home win over Tottenham and a vital win at Anfield. They also beat Manchester City 1-0, in early April, and finished with only two defeats in the final 16 matches.
Wenger will be hoping his side can pull of something as spectacular this season as well. The 3-1 defeat of Norwich City on Saturday, courtesy three goals in the final five minutes, was a fourth straight league win and seventh in eight games.
"We really have built that team spirit, solidarity and winning mentality. We never give up. To come back from a goal down in the last few minutes is brilliant and it gives us a massive boost, massive confidence and a massive three points looking forward to the end of the season," Chamberlain stressed.
The Gunners will need to draw on every ounce of that spirit and mentality. The final few games of the season are tricky. The club hosts Everton on Tuesday evening, with David Moyes' men in sixth and eyeing at least a Europa League place for next season.
And then there is the little matter of Premier League champions-elect Manchester United visiting on 28 April, as well as games against QPR, Wigan and Newcastle United; two of the last three, if not all three, will be fighting for Premier League survival.