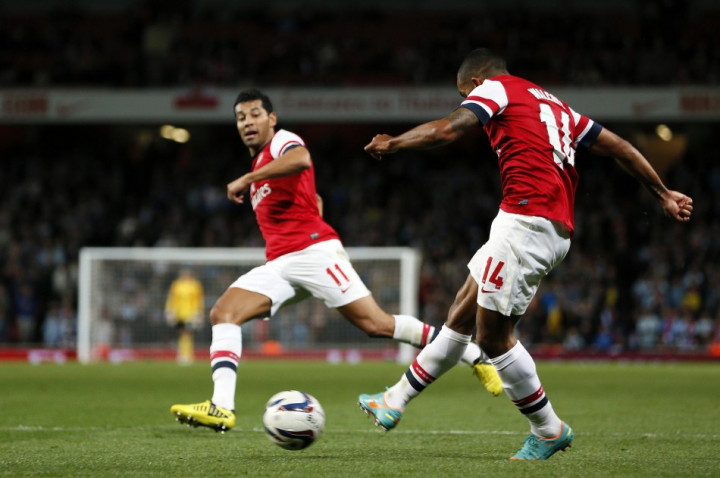 Arsenal winger Theo Walcott may finally get his wish. Club manager Arsene Wenger has confirmed he intends to play the 23 year old England international as an out-and-out striker in the future.
"I did it with Henry and Van Persie and I think I will do it with Walcott," the 62 year old Frenchman was quoted in a Goal.com report.
Walcott, a graduate of the Southampton academy, will be out of contract next summer and discussions over a new deal have stalled after the two parties failed to agree on both financial terms and playing position. Walcott reportedly wants wages of £100,000 per week and an assurance he will play as a central striker. Arsenal, meanwhile, are understood to have capped their wage offer at £80,000 per week and been non-committal about the striker's position.
There has been considerable debate over Walcott's future, if he doesn't re-sign with the Gunners. Italian champions Juventus are known to be interested and the Emirates club's Premier League rivals Manchester City and Liverpool have also been linked. In addition, rumours have also linked Spartak Moscow with a shock bid.
Wenger has wavered between concern his star will not re-sign and confidence he will. He has also admitted, in the past, a penchant for converting pacy wingers into central strikers... something he most famously did with compatriot Thierry Henry.
"You know we transform all the wingers into central strikers. I decided that during our tour of Asia, when I tried to play him in that position against Man City, I liked what he did and I put that in the back of my mind. He is such a great mover and he is so quick that when he wants to get ahead of the central defender, it's difficult to catch him," Wenger was quoted as saying earlier, when talking about this season's change in position for Ivorian international Gervinho.
Walcott's debut as a striker could come as soon as this weekend, when the Gunners travel to Upton Park to play newly promoted West Ham United. Arsenal lost their last league game - a 1-2 defeat, at home, to Chelsea - but recovered to beat Greek side Olympiakos 3-1, in a Champions League group stage game in midweek.