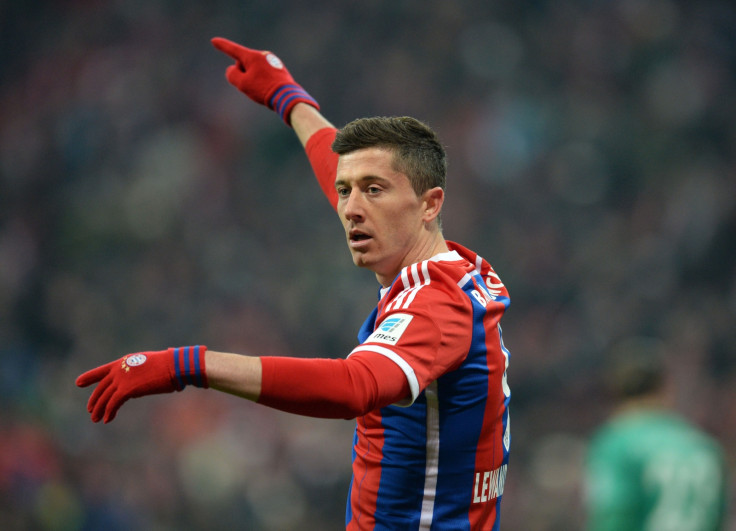 Per Mertesacker believes that Arsenal's defensive discipline was the key behind stopping Robert Lewandowski from expanding his goalscoring run in all competitions. The striker has been in brilliant form this season but the Gunners defence, marshalled by Mertesacker and Laurent Koscielny, did not give him any room to manoeuvre, something the German revealed they had prepared for before the game.
"I think that was a team effort. It was difficult for him," Mertesacker told Arsenal's official website, when asked about Lewandowski.
"He always tried to come a bit deeper to get the ball and get into the holes. It was difficult today for him. I think he had a great chance in the second half but we have a great goalkeeper for him. It was not easy for him but I think he will score some goals in this season and he's in good form at the moment. I'm sure he will continue his run."
The Gunners ceded possession quite willingly to Bayern, who had a lot of attempts from outside the penalty box but met their match in Petr Cech, who put in a world-class performance on the day. Opposition goalkeeper Manuel Neuer showed glimpses of why he is considered the best in the world, with an astounding save from Theo Walcott from close range.
However, his heroics were short-lived as he was found culpable in Olivier Giroud's opener as the German failed to judge the flight of Santi Cazorla's freekick, allowing the Frenchman to squirm the ball into the back of the net. Mesut Ozil made it two with almost the last kick of the game, created by a brilliant run by Hector Bellerin, who charged from the Arsenal half and slid in a delectable ball for the World Cup winner to score his first Champions League goal this season.
The Gunners are still bottom of their group and would ideally need a point against Bayern Munich followed by mandatory wins over Olympiacos and Dinamo Zagreb to make their way into the knockout stages. They face each other again two weeks later on 4 November at the Allianz Arena where Bayern are likely to look for revenge.