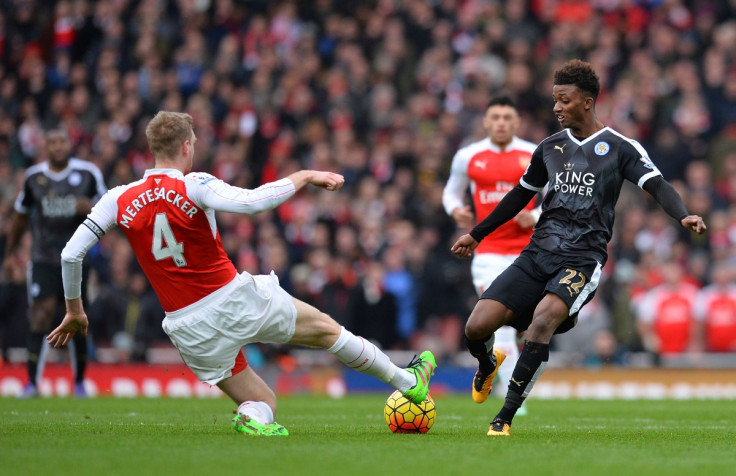 Arsenal defender Per Mertesacker believes that Danny Welbeck's return will be crucial in the Gunners' quest for title glory come the end of the season. The former Manchester United man scored a last-minute winner against Leicester City to give the Gunners three crucial points in the title race and the German believes that his pace and ability in front of goal will be an asset for the Gunners in the long run.
The win took the Gunners to within two points of Leicester and level with Tottenham but behind on goal difference. Spurs managed an impressive victory of their own at the Eithad, defeating Manchester City by a similar margin, who currently trail the leaders by six points.
Welbeck's return leaves the Gunners with only Jack Wilshere and Santi Cazorla to come backfrom a long-term injury, with the manager recently commenting that they are a few weeks away from returning to the first team. Wilshere broke his foot in pre-season and is yet to make an appearance this season, while Cazorla had a surgery on his knee after an injury sustained in November 2015.
"We need players coming back," Mertesacker told Arsenal's official website. "We have long-term injuries, which gave us a bit of a struggle, especially in January, where we played in December and January with almost the same team.
"The players gave us great energy and stepped in for other players but now we need players to come back and make the difference. That's very important, as you could see against Leicester.
"We are happy to have Danny now and a few others are not far away. We need our players - you could see that that makes a difference. We're happy to have at least him back and there's more coming back as well.
"For Danny to go through a bad, injured period where he kept believing in himself, when everyone maybe doubted him, it was a great chance for him to come in and show he was ready to give everything for the team. He was always integrated into the team but when you feature on the pitch, give the team such a great goal and energy, it gives him a big lift.
"Also, that winner at the end gives you something. We hope that we stay focused on ourselves because how we defended in the first half was good. We limited them, [prevented them] from countering and that was the important thing. We kept believing that we could score against them," he added.