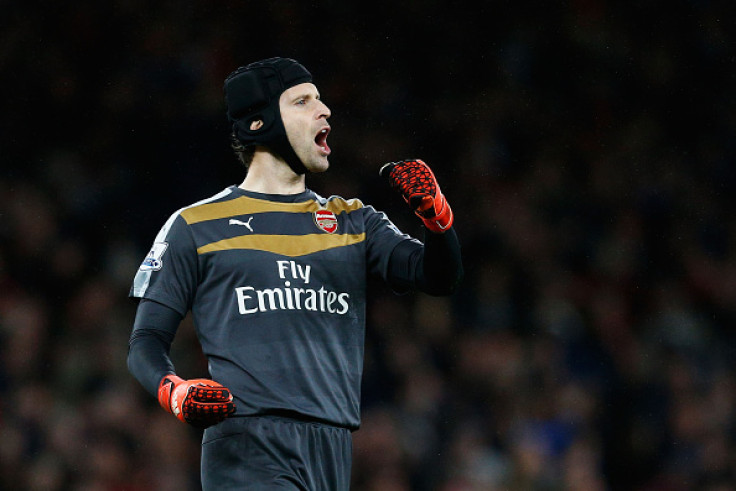 Arsenal goalkeeper Petr Cech believes that his drumming skills have made him a better goalkeeper over the course of his career. The 33-year-old has been an integral part of the Gunners' title charge this season and is known for his hobby which has earned him a lot of praise over the years.
Cech, who spent 11 years in Chelsea before moving to the Emirates last summer, insists that drumming teaches you to use your four limbs properly and develops hand eye co-ordination which is very difficult to master. Cech has been waiting for over a month to reach David James's record of 169 clean sheets in the league, but has failed to do so thus far, with the Gunners not being particularly solid at the back in recent weeks.
The goalkeeper made a few brilliant saves against Sunderland to keep the Gunners in the game, which they went on to win in order to close the gap on Manchester City and Leicester City at the top. The Gunners will be hoping that he keeps practising so that he can get even better and it reflects on his performance on the pitch.
"I never played any instrument before and I never had a music lesson or anything like that," Cech said, as quoted by ESPN. "But then once with Carlo Cudicini we played Rock Band on the PlayStation and I jumped on the drums without ever playing it before.
"I had so much fun and realised how much I enjoyed it because I love music in general. I was always listening to music but I realised that actively participating in the song you enjoy listening to was even better.
"[Drumming] teaches you to use all four limbs in different ways. You need to find a way to co-ordinate things and, once you learn how to programme your brain to do that, it helps you to co-ordinate even for football.
"It is especially useful for a goalkeeper. There are so many things I learn on the drums that I can use in goalkeeping as well, because the hand-eye co-ordination and the independence on each of the limbs is helpful."