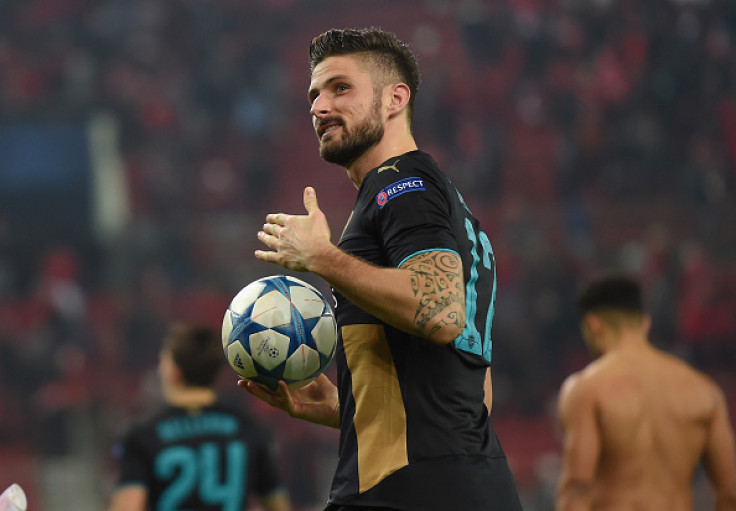 Arsenal midfielder Mathieu Flamini believes teammate Olivier Giroud's recent upturn in form is due to his midseason hiatus from the starting XI, which saw Arsene Wenger prefer Theo Walcott to the Frenchman. The former Montpellier striker has scored 10 goals in his last 11 games in all competitions and has reclaimed his spot as the Gunners' first choice for the central striker's role.
Giroud came off the bench on six occasions midway through the season, when the manager chose to start with Walcott upfront. The French international forward, however, has reclaimed his place with aplomb following an injury to the Englishman, which saw him miss over four weeks of football. He has since returned, but it is unlikely that Wenger will start him over Giroud, unless he wants to rest the Frenchman for the busy period during Christmas and the New Year.
The 29-year-old former Ligue 1 winner put in one of his best performances in an Arsenal shirt against Olympiacos on Wednesday (9 December), when he scored a hat-trick to send the north London club in to the last 16 of the Champions League. Flamini, who has also been a regular fixture in the starting lineup since the injury to Francis Coquelin, feels that Giroud's omission from the starting XI midway through the season has spurred him to work harder and perform at his optimum level.
"I think competition is very important in the big teams. Competition makes players stronger and that is what happened," Flamini said, as quoted by the Mirror.
"It is tough competition up front and Olivier is responding very well because he is playing better and better. That is part of the game and if you want to play at a big club, you have that competition."
"All great strikers have to respond in the big games and he responded well. It was a great performance from him and he helped the team very much and is a top scorer. He deserves the credit and I think he gets it," the French international explained.
"I have not seen it anywhere or from anyone that he is not a top goal-scorer and he is proving it on the pitch so is doing very well. I am glad and happy for him," he added.