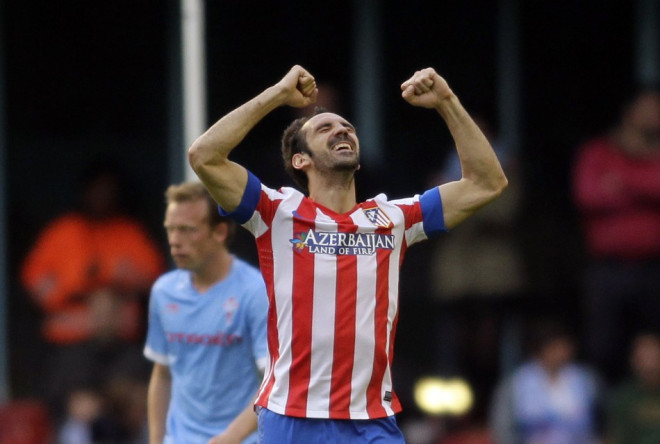 Arsenal are preparing a move for Atletico Madrid right-back Juanfran in the summer, according to Goal.com.
The Atletico defender has been in brilliant form this campaign and will be a capable replacement for Bacary Sagna who is set to join Manchester City in the upcoming season.
The 29-year-old has been a rock in defence for the Spanish club and has helped his side win the La Liga title and qualify for the final of the Champions League.
The defender will join Per Mertesacker and Laurent Koscielny in what is already an experienced backline for the Gunners and help them in their bid to challenge for the title next season.
Arsene Wenger is still pondering whether to go for experience over youth, with the Gunners also keeping a close eye on Toulouse defender Serge Aurier and Southampton right-back Calum Chambers.
The Gunners are also planning a bid for James Milner to provide cover in that position and are willing to send Carl Jenkinson on loan to gain some much needed experience.
The defender scored his first goal for the Gunners against Norwich City on the closing day of the season but his development is being stunted by a lack of opportunities in the first team.
Meanwhile, Arsenal chairman Sir Chips Keswick has congratulated the Gunners on their FA Cup Win which ended their nine-year wait without a trophy.
The Gunners beat Hull City 3-2 in extra time and secured their 11th FA Cup, jointly with Manchester United as the highest recipient of the trophy. Keswick congratulated Wenger on his fifth trophy, joining Sir Alex Ferguson as the most successful manager in the tournament.
"Anybody who does a job like that, for as long as he has, deserves every success that comes his way. He did it and I have never seen a man more delighted," Sir Keswick told www.arsenal.com.
"I hope he will continue and there will be successes to come in the very near future. We've added one trophy, and we want more," he added.