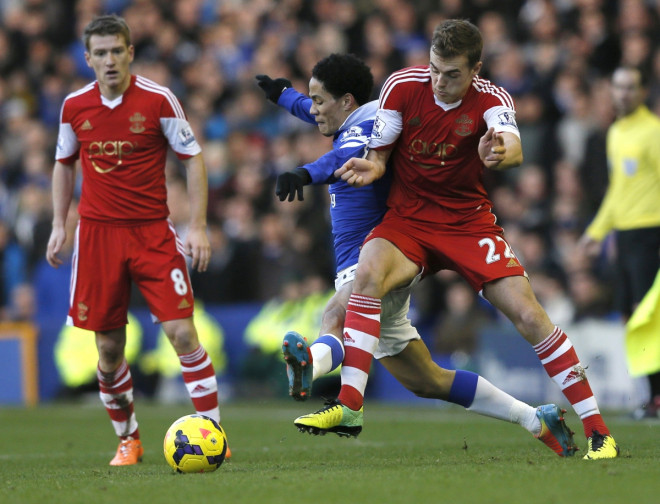 Arsenal are preparing a move for Southampton right-back Calum Chambers in the summer, according to the Telegraph.
The defender is being scouted as a replacement for Bacary Sagna who is yet to extend his contract with the Gunners this season.
The 19-year-old has broken into the first team in his inaugural year and, like Luke Shaw, has showed the potential to get into the starting line-up for any team in the years to come.
Arsenal are still trying their best to convince Sagna to stay, which is proving difficult given that the 31-year-old has reportedly received offers from Paris Saint-Germain and Manchester City after his contract expires in June.
The Southampton starlet has made 21 appearances this season and is likely to be part of the starting line-up in the upcoming season after ostensibly overtaking Nathaniel Clyne for the top spot.
The player is the captain of the England U-19 team and will be a major addition to the Gunners, who are in the market for a player who can bomb up and down the wings.
However, with Shaw expected to be sold to Manchester United for a fee in the range of £30m, the Saints are unlikely to let Chambers go in the same window.
In spite of the same, the Gunners may be helped by Southampton's financial condition which is in the red and need money for further transfers to strengthen their squad for a top five finish next season.
Arsenal are looking to send Carl Jenkinson on a season long loan so that the former Charlton man can get some much needed experience in the top flight, something which will benefit the youngster in the long run.
Meanwhile, the Gunners are also looking into the situation with Thomas Vermaelen who is looking to make his way out of the club in search of first team football.
The Belgian has not been part of the squad owing to the brilliance of Per Mertesacker and Laurent Koscielny who, barring the humiliations away from home, have been rock solid in defence this season.