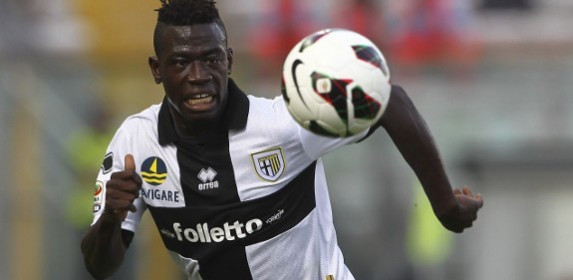 Arsenal are preparing a bid for Ghana midfielder Afriyie Acquah, according to the Sun.
The TSG Hoffenheim loanee has been in brilliant form for Parma in the Serie A this season and has caught the eye of clubs from across Europe.
The midfielder is likely to make the provisional squad for the World Cup to be played in Brazil later in the summer after impressing for his country in the U20 World Cup.
He is among the best performing Ghanian players plying his trade outside the continent and is being given his due with a call to the senior line-up.
Arsenal are in the market for a defensive midfielder to replace Mikel Arteta, who is entering his mid-thirties. His performance this season has been well below par and Acquah is being scouted with a long term solution in mind.
Arsenal are currently fourth in the league table and need to win their remaining three games to guarantee qualification into the Champions League next season.
Everton are breathing down on their necks after a convincing win over Manchester United at the Goodison and will be ready to poach should the Gunners drop any more points in the remaining games.
Meanwhile, Arsenal's French striker Yaya Sanogo has revealed that it is imperative that the Gunners qualify for the Champions League next season, failing which will be major blow to their reputation and ability to scout top talent.
"It is very important for such a great club as Arsenal to be in the Champions League. It is a duty," Sanogo told www.arsenal.com.
"We really want to get qualified. We have been participants for 16 years so we want to be there again. To do that we have to give our best on the pitch, give 100 per cent in every single match.
"We were very happy [to get back in front of Everton] because we have come from a difficult place. The wins over Wigan and then West Ham and Hull have given a boost to our morale," he concluded.