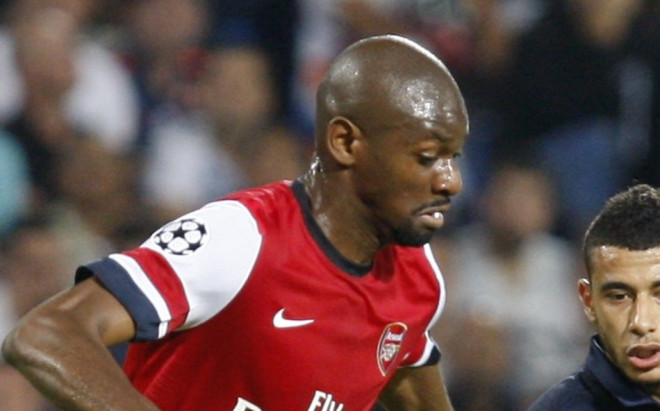 Arsene Wenger has revealed that Abou Diaby is fit and may play a part in Arsenal's end of season campaign.
The Frenchman has been out for over a year with an anterior cruciate ligament injury but is back to full match fitness with Arsenal needing a win in their last three games to guarantee their position in the top four.
Diaby has had a blighted career thus far owing to injuries, with the player missing a chunk of his stay with the Gunners through injuries.
Wenger has a host of injuries to squad at this point and is hoping that Diaby's arrival will alleviate the problems they are having owing to the absence of Jack Wilshere and Theo Walcott.
Wilshere is out with a hairline fracture while Walcott is out for the rest of the season with a ACL problem.
The return of Aaron Ramsey and Mesut Ozil into the squad has been a major boost for the Gunners, who displayed their true form against Hull City with the Welshman scoring a goal and assisting two as the Gunners dispatched the Tigers 3-0 in comfortable fashion.
Diaby played 45 minutes in the Gunners' 2-1 loss to Chelsea in the U-21 League at the Emirates, something and may be fit to play in some capacity for the first team.
Wenger believes that he needs to get more games under his belt and get rid of his inhibitions for tackles, something which will help him get back to his best.
"He is back in full training now and available to play," Wenger told www.arsenal.com.
"Yes of course [he could play for the first team this season], it depends how well he comes out of the game. He hasn't played for a year but physically he is ready to play, completely. It is now just decision-making, getting used to challenges again. He needs a game.
"Everybody [counted him out] but he is fit and ready," he added.