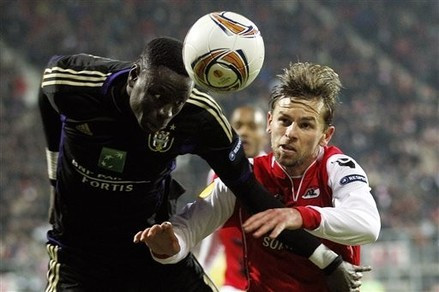 Arsenal have rekindled their interest in signing long-term transfer target Cheikhou Kouyate as the Gunners are considering an approach in signing Anderlecht centre-back.
The 24-year-old has been a transfer target for Arsenal since the summer of 2012 and later that year, the defender revealed that he had rejected an offer from the north London side. Arsene Wenger has long maintained his interest in signing the Senegalese international to the Emirates.
According to Goal.com, the Gunners have set their sights on signing Kouyate as Wenger looks to bolster his side's back four. Meanwhile, the defender has been a transfer target a £5.3m transfer target for CSKA Moscow as the Russian side is looking to strengthen their squad.
The report claims that Arsenal's Premier League rivals have also maintained their interest in signing Kouyate as Manchester City, Liverpool and Southampton are after the central defender's signature.
However, the Gunners are set to beat their Premier League rivals and Russian clubs in landing Kouyate. The player's agent Saffet Balkan has already confirmed interest from England and Moscow, but refused to reveal the clubs interested in his client's services.
Balkan admitted that Kouyate is keen on making a switch to the Premier League as it will suit his style of play.
"Tomorrow morning I will have a meeting with two clubs in Belgium to discuss Kouyate's future. One is from Moscow and the other is from the Premier League, but both clubs have requested that I do not say which ones," Balkan told Goal.com.
"We already have one offer of €6.5m from Russia which Anderlecht are happy with but now we have to finalise things. I think he would prefer to play in England because it will suit his style very well. We will see what happens in the next 24 hours," he added.
Despite Balkan's latest remarks, earlier this month Kouyate's agent was reported to have held talks with Arsenal and Liverpool representatives, and said the Gunners were ahead of the Merseyside club in signing the centre-back.
"I have been in talks with representatives from Liverpool and Arsenal over Cheikhou Kouyate. Arsenal are very interested in Kouyate. It's very likely that he'll be joining a Premier League club soon," the Metro quoted Kouyate's agent as saying.