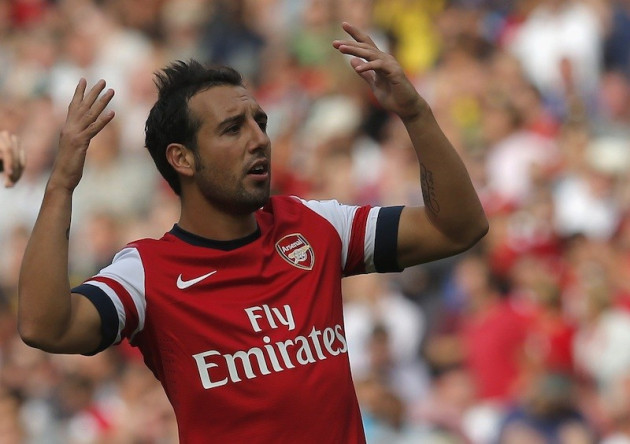 Santi Cazorla looks up to Thierry Henry, Dennis Bergkamp and Robert Pires but the Arsenal midfielder learnt the most from former Barcelona and Real Madrid man Michael Laudrup growing up in Spain.
Arsene Wenger confirmed that Cazorla is back in the mix for selection against Norwich this weekend and the Spaniard couldn't be returning at a better time as the Gunners sit atop the Premier League table with a tough Champions League match against last season's finalists Borussia Dortmund coming up.
And the 28 year old has revealed that he looks up to the Invincible trio in a Twitter Q&A with official Arsenal media.
"I'd rather name three spectacular players," he said when asked who his favourites from Arsenal's past were. "Thierry Henry, Dennis Bergkamp and Robert Pires, who's a great friend."
Cazorla added: "I was lucky to play with Pires at Villarreal. I also trained with Henry and I wish I'd played with Dennis Bergkamp."
But when asked who he looked up to as a child, he gave a completely different answer, saying: "I had a great devotion for Michael Laudrup. He was an amazing player. I was able to learn from the things he did."
Cazorla's return to the Arsenal fray will serve as a huge boost for Arsenal after early fears suggested that they might be without Mesut Ozil through a knee injury.
The midfielder limped off as Germany defeated Sweden 5-3 in their final World Cup qualifier but Wenger insisted that the injury was only a minor knock and he will also likely feature against Norwich.
And with Cazorla back in action for the first time since his side defeated Tottenham 1-0 on September 1st, seeing the pair in action on the pitch together again will bring even more of a positive mood to the Arsenal faithful.