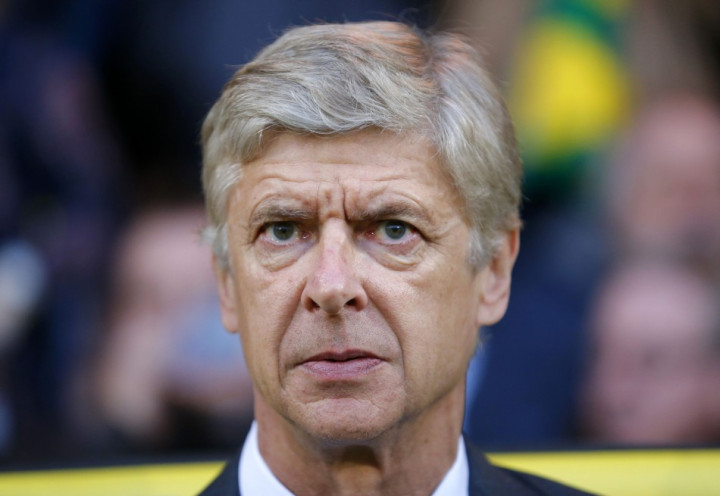 Arsenal secured a 2-2 draw, away to Bundesliga club Schalke 04, after leading their hosts 2-0 for most of the first-half. The point leaves the Gunners second in the group, with seven points from four games. Schalke lead with eight and Greek side Olympiakos\' group stage double over French champions Montpellier means they too, remain in contention to qualify for the knock-out stages.
Speaking after the match in Germany, Arsene Wenger declared himself pleased with the result at the Veltins-Arena and despite the fact the north London club allowed a two-goal lead to slip, the Frenchman insisted his side put on a far better showing midweek than they did in their last league game - a 2-1 defeat at Manchester United.
\"Of course, I believe that it was a difficult game, and a good one as well on both sides. Both teams played very well. I feel of course, after all the stick we got after Saturday\'s game it was important to show a great response, which we did. We played against a good team,\" Wenger explained to Sky Sports.
The visitors opened scoring after only 18 minutes, when England international Theo Walcott tapped home into an empty net. Summer signing Olivier Giroud has had a difficult start to life in London, but the French striker is growing in confidence and he scored the Premier League club\'s second, just short of the half hour mark.
However, Schalke struck back in injury time in the first half, with a goal from reported Liverpool target Klaas-Jan Huntelaar. The Dutch striker, who had spells with La Liga champions Real Madrid and Italian club AC Milan before joining Huub Stevens\' side, also scored in the match at the Emirates. Peruvian striker Jefferson Farfan levelled matters after 67 minutes.
Wenger also commented on the tactical intensity of the match, praising Schalke for fighting back to earn a draw.
\"You could see the results of the German teams, they have physical quality, technical quality, and they never give up on top of that. So overall, I believe that the game was not over, even at 2-0,\" the manager admitted, \"Overall, I believe that 2-2 is fair. Look, we lost on Saturday and at least we didn\'t lose again today.\"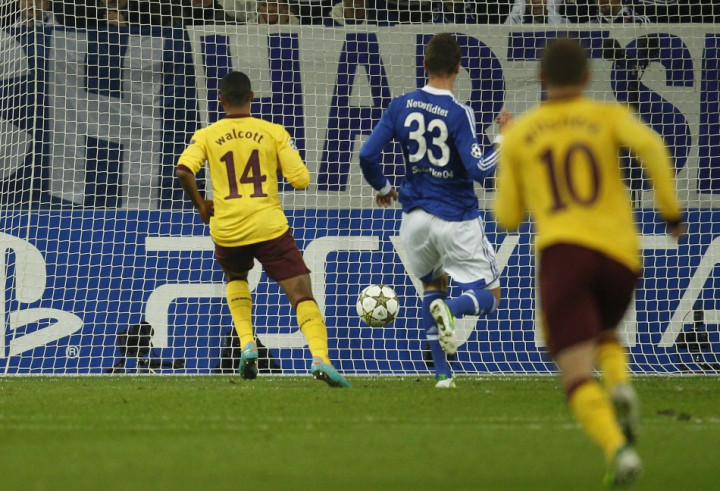 Wenger and Walcott
Walcott\'s starting berth, meanwhile, is a measure of the fact the 23-year-old is in good form at the moment. The former Southampton youth player\'s future at the Emirates may be in doubt but he still has his manager\'s confidence.
\"Theo Walcott did extremely well, and was certainly one of our best players. What people forget is that he was injured for a long time and injured with England,\" the 63-year-old said, adding, \"He just comes back now, that\'s basically it. We all know that he\'s a great player.\"
As for Walcott himself, the forward believes the goal against Schalke, on the back of a hat-trick in the 7-5 win over Reading, only makes his pleas to be played as an out-and-out striker more valid. The winger is in the final season of his contract and an extension was believed to have been refused pending an agreement from the club to play him as a striker. However, his display against the Royals, and in Germany, may have convinced Wenger to do just that.
\"He was superb tonight,\" Wenger was quoted as saying after the 7-5 win over Reading, adding, \"I always said that he will be a striker, we are on the same wavelength there because he has something. First of all, he is a good finisher - the way he scored the first goal and the second I think as well, he knows where to be in the box on the rebound. I like that quality, you either feel it or you don\'t. He has the qualities to play there.\"