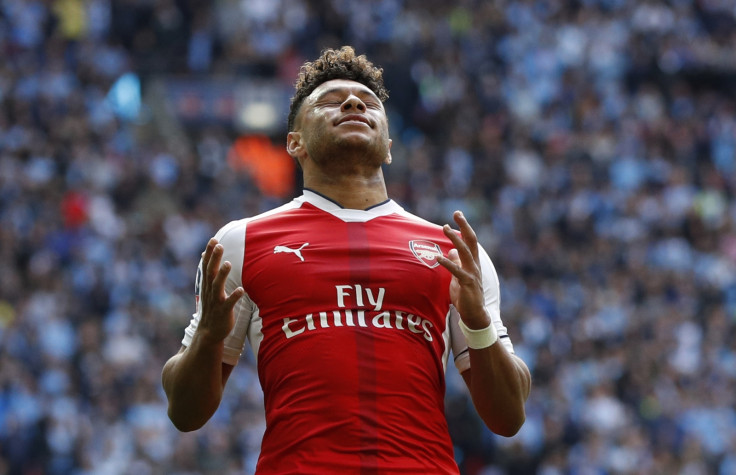 Arsenal are confident of tying midfielder Alex Oxlade-Chamberlain to a new deal after they offered him a contract in excess of £100,000 ($128,698) per week to keep the England international away from the clutches of Liverpool. The Reds were very interested in bringing him to Merseyside with Jurgen Klopp keen on strengthening his squad in view of their participation in the Champions League next season.
The Mirror reports that the Gunners are hopeful of closing a deal for the player in the next few weeks and Arsene Wenger's decision to hand him a start in the FA Cup final is testament to the trust vested in him by the manager. The Frenchman has recently signed a new contract at the Emirates, which shall see him stay at the club till 2019, pending further extensions.
The 23-year-old, who is entering the most important years in his career, is confident that he can progress further at Arsenal, with Wenger keeping faith in the midfielder to take the next step. The England international had a breakthrough campaign last season, scoring six goals and assisting 11 in 45 appearances for the club in all competitions.
Chamberlain has prospered in a right wing-back position for the north London club following the Gunners' transition to a 3-4-3, which has reaped them major rewards in the end of the recently concluded season. He is particularly valuable for his versatility, capable of playing in central midfield or on the wings, from where he can make driving runs into the opposition half. However, he has maintained that he would prefer being stationed in midfield, which he considers his most appropriate position.
"The attributes I have go hand in hand with playing out wide, so I think it just depends on what the best fit for the team is and myself as to where I play. Long term, I'd hope I end up playing more central," Chamberlain told Standard Sport.
"I thought this is where I want to be able to play moving forward, so maybe that is my main ambition to end up playing there - but still I think it is a tricky thing to nail me down to one position," he said.