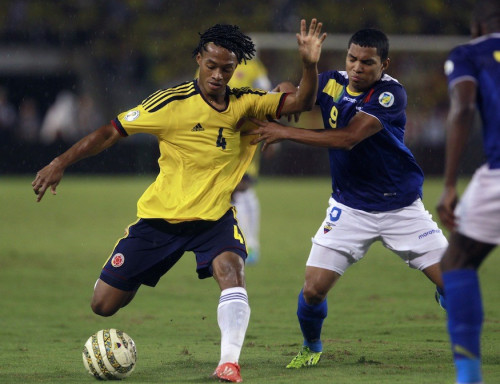 Arsenal are planning to go all out for Fiorentina winger Juan Cuadrado in the summer, according to the Metro.
The Gunners have reportedly made the 25-year-old their top target for a move next summer after missing out on him in January. The winger is partly owned by Fiorentina and Udinese and Arsene Wenger is prepared to pay up to £15m to save the Serie A giants any trouble over his ownership. The winger has been one of the brightest players in the league this season and with his pace and guile can be a brilliant back-up for Lukas Podolski, who is seemingly out of favour with the manager.
Reports state that the deal is agreeable with both parties and the transfer is likely to go through unless the Gunners decide to change targets with a larger pool of players available in the summer. However, question marks are there over the Colombian's ability to get a work permit in the UK, something which has to be discussed before the player is granted a move.
Liverpool and Tottenham are also keeping a close eye on the versatile player, who can play on the wings and also through the centre. He is known for his ability to track back, something which Wenger deems necessary in his team's structure. The player has scored six goals thus far this season and has been the main attacking outlet for the Violas in the on-going season.
Meanwhile, Wenger believes that they need to strengthen their fans' belief by putting in brilliant performances day in day out this season. The fans booed the team off the pitch after their 0-0 draw against Manchester United but Wenger is confident that the crowd will be behind them on Sunday when they take on Liverpool.
"I sense a huge feeling from the crowd to help the team but we have to strengthen that belief with our performance," Wenger told www.arsenal.com.
"The crowd will no doubt be behind us [against Liverpool] but let's put the vibes out that we have a go and they will be behind us. They were hugely behind us on Wednesday night, [but] they were frustrated at the end of the game like we were," he concluded.