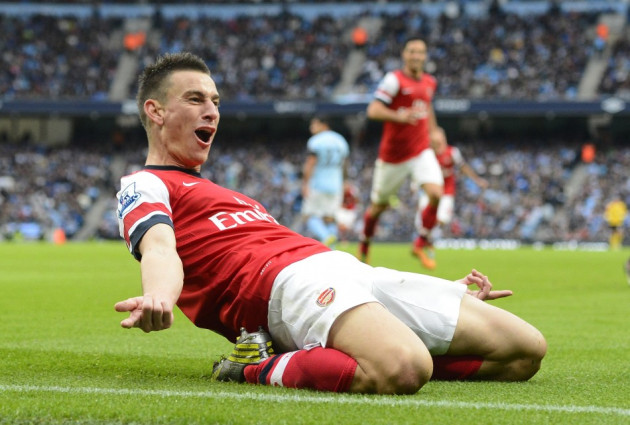 Laurent Koscielny has waved away speculation that he could leave Arsenal in the summer but admits that he would like to see "two or three" big names arrive ahead of the new campaign.
The France international finished the season in superb style playing alongside Per Mertesacker and had been linked with a possible exit after reported interest from Barcelona and Bayern Munich.
Koscielny has dismissed the idea of leaving Arsenal but has warned that the club may need to make some significant signings this summer if they want to compete for major honours in the coming years.
"I never said that [I want to leave]. I feel very good at Arsenal. I am aware that it's a great club and I have a four-year contract," Koscielny told lepopulaire.fr. "I know there's talk about me and Barcelona and Bayern, but people get carried away.
"The facts are simple: I have a contract at a club where I am happy. Full stop. We all know how situations change in football but I repeat that I'm not one to make over-ambitious plans. I live in the moment, I seek nothing but to play the best I can."
"The objective I have in my head at the moment is to win as many trophies as possible with Arsenal, where I am about to start training again. I have no ulterior motives.
"I'm at a healthy club which plays beautiful football, doesn't lose money every year, sticks to its own budget and plays in the Champions League. Not many players can say that.
"We need two or three top players to take a step forward. I sometimes regret that we don't have them, it's true."
While Koscielny had called for more players to arrive at the Emirates, manager Arsene Wenger has continued his summer clear out with Johan Djourou joining German side Hamburg on an initial one year loan.
"I'm very happy now that everything is sorted. HSV are a big club, with a lot of quality and great fans," said Djourou. "I am convinced that this is the right step for my career."
The Gunners had already released 10 young players, while Andrey Arshavin, Sebastian Squillaci and Denilson were all allowed to leave the club after their contracts expired.
Danish striker Nicklas Bendtner is also expected to leave the club in the following weeks with Eintracht Frankfurt the favourites to gain his signature.