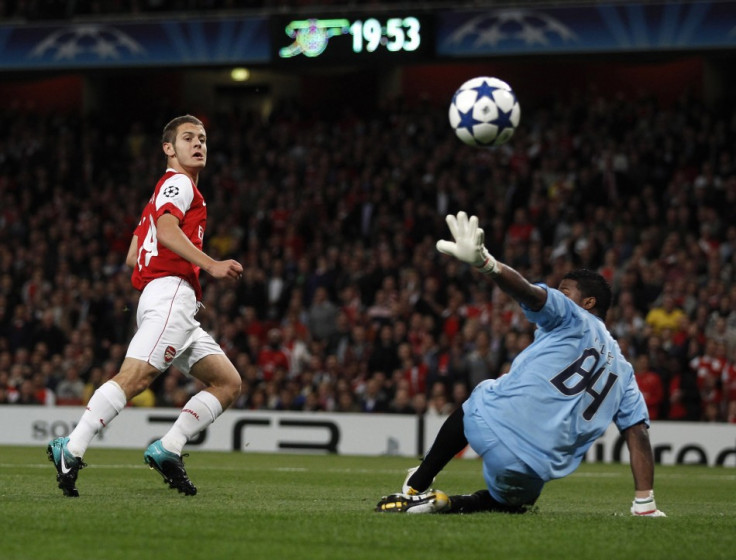 Jack Wilshire has vowed to finish his career with Arsenal and revealed he expects to return from his ankle injury before Christmas.
The 19-year-old midfielder outlined his desire to play a key role in bringing trophies to the north London club as Arsene Wenger looks to build a team of young talents to end the club's trophy drought.
"Can I promise I will be at Arsenal for ever? I can promise that, yes," Wilshire said. "I've been at the club since I was nine and I've learned to love it.
"From the [Patrick] Veira days, to [Dennis] Bergkamp, [Cesc] Fabregas, I've watched them come through and move on.
"But now there's a crop of new players, [Aaron] Ramsey, myself, Kieran Gibbs, hopefully we can really create something special. I love the club and I want to be part of its future."
Wilshire has been out of action since he suffered a ankle injury in England's Euro 2012 qualifier against Switzerland in June. Initial reports suggested the midfielder would be ready for the start of the season but a setback during the Emirates Cup tournament at the end of July revealed a stress fracture in his right ankle.
It was originally feared that Wilshire would be side-lined until February but the 19-year-old said he expects to return to training in five weeks following a successful operation on the injury.
"It's going really slow at the minute and obviously I'm really frustrated," he told iFilmLondon.com. "I should be back in training by mid-December, then I can crack on and it's up to the boss when he picks me.
"It's massively frustrating, especially after last year when we were so close to winning a trophy. We beat Barcelona at home and everything seemed to be going well and it ended sadly.
"I was looking forward to this season, I really thought we could push on and do something. To get a setback is massively frustrating but I'll be back in December and hopefully we can push on from then."
Arsenal have recovered from a dismal start to the season to record five straight wins in the Premier League since losing to Blackburn in October and Wilshire believes the club have now turned a corner.
"We seem to get better and better every week," he added. "We had a bad start to the season and everyone knows that. I'm not going to lie and say we did well, we didn't.
"The boys had to play together, they're new players some of them. We seem to be getting better and better every week.