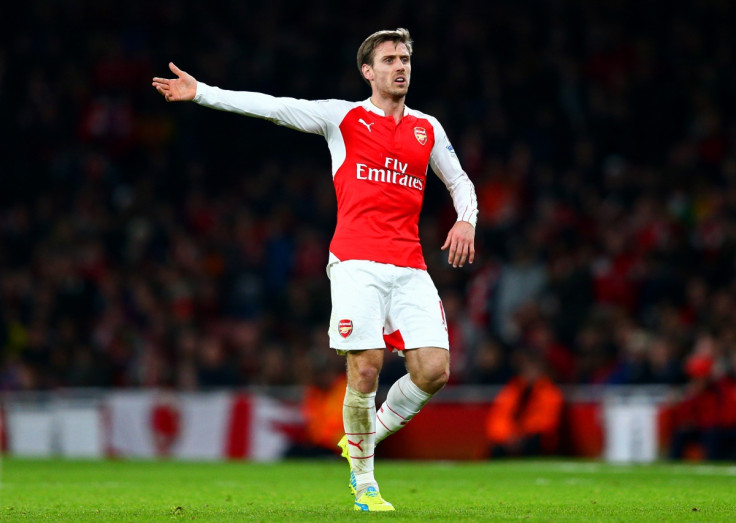 Nacho Monreal has claimed that he is so happy at Arsenal that he sees himself at the Emirates Stadium even beyond the end of his current contract in 2019. Though the Spaniard admits he is beginning to miss his homeland but only thinks about a future with the Gunners after he signed a new deal last January.
The 30-year-old left-back was recruited by Arsene Wenger in January 2013 after earning a big reputation at Malaga. Yet, his future at the Premier League giants came under scrutiny during his first two years at the club after he failed to establish himself in the French boss' line-up.
Monreal has subsequently managed to turn around the situation beating Kieran Gibbs in the pecking order and becoming a crucial part of the Arsenal defence during the last two campaigns. And in January Arsenal decided to end speculations linking him with a move back to La Liga to play for Athletic Bilbao by rewarding him with a new long-term deal until 2019.
"I'm happy because the beginning was tough," Monreal recalls in an interview with Marca Plus. "The swap from La Liga to the Premier League was difficult. They are two completely different leagues, one more tactical and technical and the other one more physical. I came from doing some impressive seasons in Spain and here at first it was hard. I was not even in the line-up. I had to adapt to the English football but in the end the hard work paid off.
"(Now) I am very happy here, playing in one of the best clubs in England. I am very happy with my team mates, with the club... The idea is to continue here. I'm not planning to go anywhere but to stay here and then, when the contract expires (in 2019), we will see how the body reacts and which level I can give at 32-33-years-old. Then, let's see if I get the opportunity to continue here and if find myself in a good shape I am sure I will continue here. If not I will return to Spain, because after several years away (from home) I miss it."
Monreal's impressive form at Arsenal, however, has been constantly overlooked by the Spanish national team manager Vicente del Bosque. The left-back used to play for Spain during his stint at Malaga but has since fallen out of favour in recent years behind the likes of Jordi Alba and Chelsea's versatile full-back Cesar Azpilicueta.
The Arsenal left-back admits he would have loved to play at the Wolrd Cup or a Euro Championship with his country but still considers himself lucky for having had the chance to wear his country's colours in the past.
"I feel lucky because I have learned the feeling of playing for my national team. I have played a number of games and being in many call-up but I would have liked to play in a major tournament. The most I got was to play in the Confederations Cup in Brazil but it is true that I would have liked to play a European Championship or a World Cup. But we are talking about the best Spanish players and in this sense I just try to be positive and feel myself proud to have been part of it."