Arsenal have suffered a massive blow after Arsene Wenger admitted that his star player Per Mertesacker will not return to action until the end of this year. The defender picked up a knee injury in the Gunners' pre-season fixture against Lens.
The German international underwent a surgery and the north London club's manager earlier revealed the centre-back could be out of action for some months, but was unable to get the timescale for his absence. However, the Arsenal boss claims that Mertesacker will be back on the pitch in 2017.
Wenger also explained why losing Mertesacker will be a massive blow for the first half of the 2-16/17 season. The Frenchman believes he has lost a heavyweight in the dressing room following his latest injury setback.
"I had Per on the phone two days after his surgery. He is highly motivated to come back strongly. He will be out for a few months. Is it three or four? I don't know. Certainly I don't count that Per will be back before the end of the year," Sky Sports quoted Wenger as saying.
"We will miss him. He is a leader on and off the pitch. He is very well respected in the dressing room and gets everybody focussed on targets. We lose a heavyweight in our dressing room."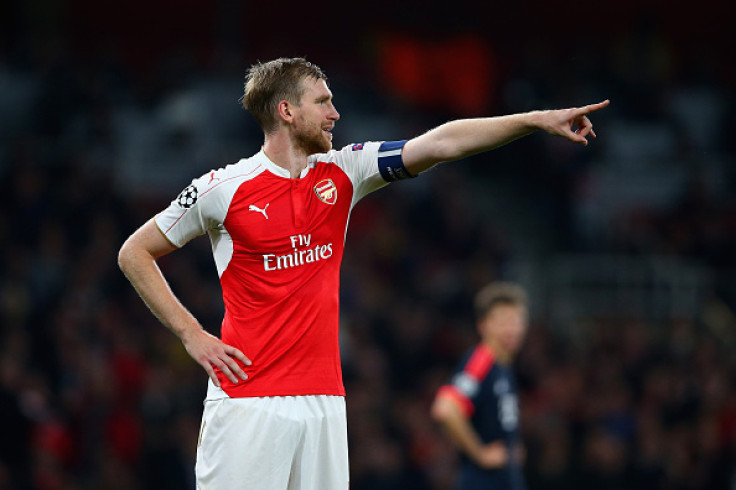 The situation leaves Wenger with Laurent Koscielny, Gabriel Paulista, Calum Chambers and summer signing Rob Holding as the other four players in the centre-back position. Wenger admitted that he will turn midfielder Krystian Bielik into a central defender.
"We have three young players who compete for the position; Holding, who has been very impressive, Bielik and Chambers. I will have to make a decision on who is the closest to that position," Arsenal manager explained.
"Bielek has all the qualities and ingredients to be a top level centre-back. The one thing he is missing is the experience in this position because he came to us as a central midfielder, but I converted him into a centre-back because I felt he can play the type of football we want to play as a centre-back."