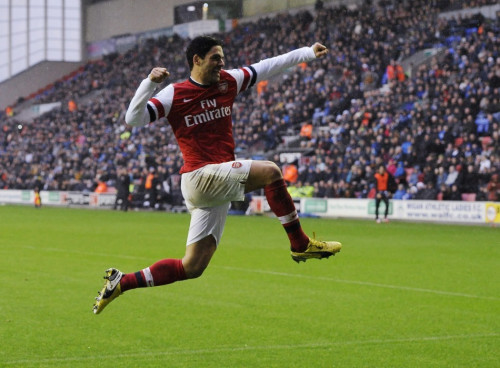 Mikel Arteta claims that star signing Mesut Ozil is the best player in the world in his position, but claims Arsenal need further reinforcements in the January transfer window.
In an interview with Spanish Radio Station Cope, the former Everton star also claimed that Arsenal are "where we want to be" and suggested that the Gunners' battle with Manchester City will hold the key to the title race.
Speaking of Ozil, Arteta said: "I believe that in recent years we missed the ability to score more goals and finish matches, be more incisive. The manager tried to solve that last summer and Ozil's arrival has given us this impact.
"He adds more creativity and he gives us more options in the attack. Now we are where we want to be.
"Ozil is a different player, there is only one like him. In his position probably is the best in the world".
Looking forward to the January transfer window, Arteta said: "I would like to have more options. Sometimes we play with Cazorla, Ozil and Giroud and we miss a player who runs into the space.
"In that sense Walcott gives us a lot and he has been a key player since he returned from the injury."
The Spaniard is cautious about their chances of winning the title and understands why some people still doubt they will be able to do so.
"People who distrust us have a case, because in recent years we have failed. We have to change that and we should arrive in April and May with options to win the league. Some years, by this stage of the season we had already lost it".
Arteta identifies Manchester City and Chelsea as the Gunners' key contenders - but City are the biggest threat.
"City are the strongest team in terms of squad. They have many solutions and strikers that make the difference in the big games. We met that threat with other ideas and this battle is going to decide the winner.
"Chelsea are competent too. Mourinho gets that all the squad to fight for the same target and they have a lot of quality with Willian, Hazard Mata..."
The 31-year-old, one of the most consistent midfielders in the English game, also praised Tomas Rosicky and stressed in his importance to the team.
"Rosicky is totally underrated. He is the kind of player that you always want to play with. He is very professional. He has had bad luck with injuries but he could be one of the best."