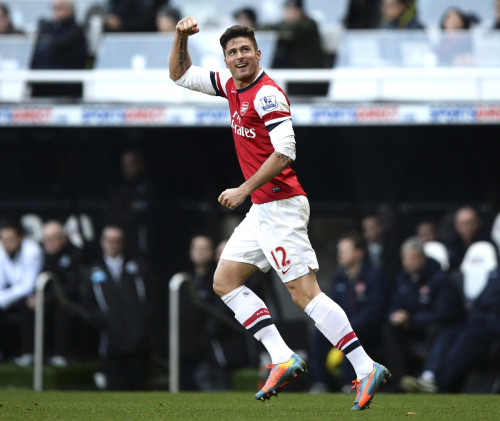 Arsenal striker Olivier Giroud has revealed that he would rather win the Premier League than the Champions League – even though the Gunners have never won the European trophy.
Arsenal are currently leading the Premier League after Chelsea beat Manchester City last Monday leaving Jose Mourinho's and Manuel Pellegrini's sides level in the table and two points behind the gunners.
Meanwhile, Arsenal will face Bayern Munich in Champions League last 16.
Giroud has taken part in a Q&A session on Arsenal's twitter account.Asked which title he craves most, he said: "Tough question! I'd say both but I would choose the Premier League first."
The next two Premier League games will be crucial to get Giroud's dream as on Saturday Arsene Wenger's side travel to Anfield before welcoming Manchester United next week.
The French international defender has also revealed the reasons behind his move to Arsenal from French side Montpellier.
"I always wanted to play in the Premier League and Arsenal were my favourite club, it has a French connection."
Furthermore, the striker picked the goal that he scored earlier this season during the 1-0 victory over Tottenham as his best since he moved to the Emirates Stadium in 2012.
"The winner against Tottenham [was the best], it was difficult because it was with the outside of my boot. And it was a derby!"
At the same time, asked about which defender strikes the most fear into him he said: "In the Premier League I think Ivanovic is tough, and Kompany too. And Koscielny of course!"
After a difficult first campaign at Arsenal, Giroud had impressed during the first part of this season, scoring 10 goals in 22 Premier League appearances.