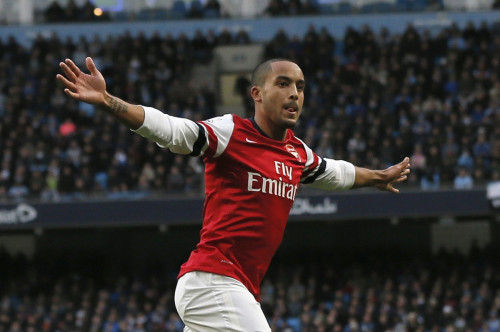 Arsenal star Theo Walcott has admitted that he is open to the idea of bringing in a striker to the Emirates in the January transfer window.
The Gunners have Olivier Giroud and Nicklas Bendtner as the first choice strikers in the squad, with the French international being deployed as the lone player to lead the north London side's attack this season.
Giroud and Bendtner have both picked up injuries during the festive fixtures, leaving Arsene Wenger with Lukas Podolski and Walcott to lead Arsenal's strike force. The Frenchman has already admitted that he will look to bring in a striker if a "special player becomes available."
Walcott believes the arrival of a striker in January will improve competition in the squad and also boost their chances of winning the league this season. Arsenal are on top of the table with 45 points, leading second place Manchester City by a point.
"To be fair that is for the manager to decide if he wants to go out and buy anyone, whoever will come to the club in January, if not it is going to make the club stronger anyway," Walcott explained.
"It is always nice to have competition with players coming in, but January is such a difficult period in the transfer market to get players in, especially the top players."
"The boss has already said that he is looking for special players and we have got a lot of special players in that dressing room," the England international added.
Meanwhile, Giroud believes that Arsenal do not need to sign a striker and has urged Wenger not to bring in an attacker in January.
The Gunners are linked with a £2m move in signing Fulham striker Dimitar Berbatov in January. The Bulgarian has less than six months left in his contract at Craven Cottage and the former Arsenal midfielder Stewart Robson claims the addition of the former Manchester United striker will can help the north London side win the league title.
Berbatov is not cup tied in the European competition and the addition of the 32-year-old striker will see Wenger field the former United man in three competitions. Arsenal are out of the Capital One Cup, but are in contention of the Premier League, the FA Cup and the Champions League.
The Gunners host their arch rivals Tottenham Hotspur for the FA Cup third round while they face Champions League winner Bayern Munich in the Europe's most elite club competition.