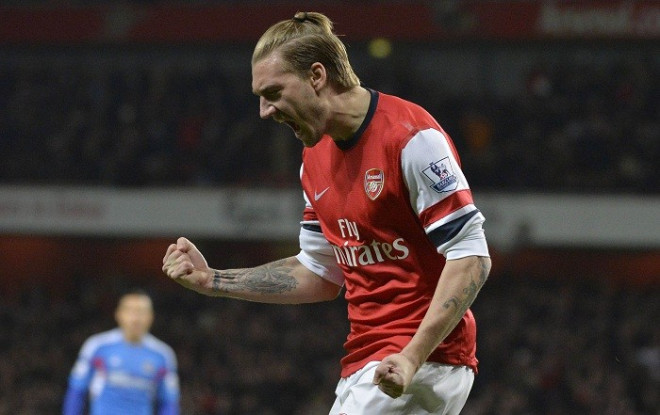 Arsenal striker Nicklas Bendtner is planning to leave the club at the end of the season.
The Denmark international came close to leaving the Gunners on a number of occasions last summer until Arsene Wenger convinced him to stay after the club failed to bring in another striker.
Bendtner has played the role of Olivier Giroud's understudy this season but has found it hard to force his way into Wenger's first team plans with 21-year-old Yaya Sanogo recently moving ahead of him in the pecking order.
After nine years in north London the 26-year-old now feels a move away from the Emirates is the next step in his career.
"It's not part of the plan to be at Arsenal after the summer," Bendtner told Danish newspaper BT. "I'll try something else. I've put a lot of thought into what I want, but the most important thing is to go to a place where I can get more playing time. I need to play more to also keep my place in the national team."
Bendtner had a number of opportunities to leave the Gunners during the summer having spent the previous two campaigns out on loan to Juventus and Sunderland. Moves to both Hamburg and Frankfurt in the Bundesliga collapsed over personal terms while Wenger chose to pull the plug on his proposed move to Crystal Palace on transfer deadline day last August.
The Arsenal striker is expected to start at Wembley on Wednesday when England host Denmark in a friendly where he hopes to have more of an impact than he has had for Arsenal this season.
"I'm looking forward to playing in the game and get back into action, and of course it's a bit special, it's against England here at Wembley.
"I am fit and ready, am training well," he added. "That I am not selected is up to the manager, it is not up to me. All I can do is train well, which is what I am doing. If the manager chooses differently, then that is up to him."