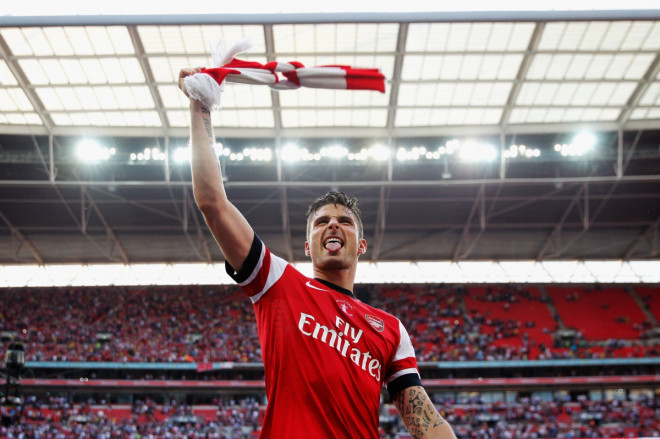 Arsenal striker Olivier Giroud says his side cracked under the pressure of the Premier League title race as the French international begins negotiations over a new contract at the Emirates.
The 27 year old has two years remaining on his current deal and having scored 39 goals across the first two campaigns of his Gunners career, Giroud has enjoyed a decent start to life in north London.
And amid the delay of the confirmation of Arsene Wenger's new contract at Arsenal, Giroud says he has begun talks over a new deal to extend his stay at the club.
"I have two years left on my contract, but we're in talks to extend it," Giroud told Midi Libre. "For the moment, I'm good here. There are some good things to be done.
"I feel at ease in this league. My first season wasn't too bad, the second was rather good. I hope to do better still. I progress year-on-year, just like the team, which produces great play."
Giroud scored 22 goals in 51 appearances in all competitions last season and was almost unchanged as the spearhead of the Arsenal attack.
A lack of support for Giroud, who will hope to lead the France line at the summer's World Cup finals in Brazil, was seen as one of the main reasons behind Arsenal's inability to convert their lead in the Premier League title race.
But the ex-Montpellier forward says instead of lacking support, Arsenal merely wilted under the pressure from Chelsea, Liverpool and Manchester City.
"We were ahead for a good half of the season, and then we cracked," he said.
"We lacked maturity; we had a lot of injuries at a tricky time. Above all, we weren't able to adapt to the big teams, and we often went off the rails in big games. We have to improve in those matches, perhaps we have to try to play less. But it's hard with the playing philosophy we have."