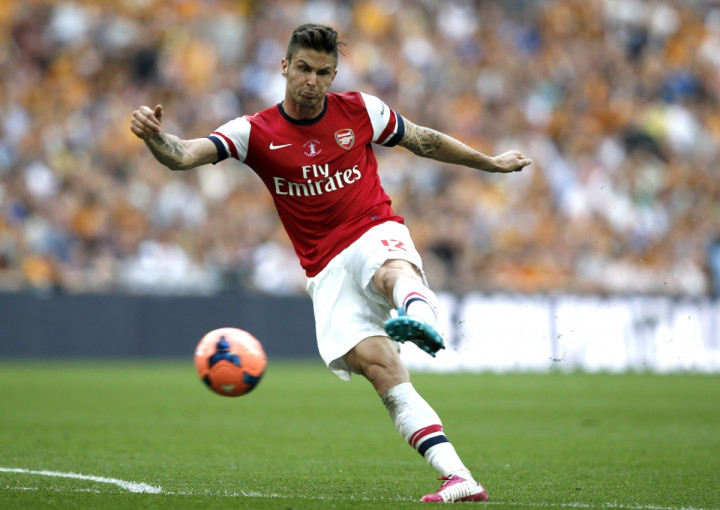 Arsenal striker Olivier Giroud has been promised the club will sign a new forward in the current transfer window.
The France international made 50 appearances in all competitions last season, scoring 22 goals, during a campaign in which he was overworked as the spearhead of the Gunners attack.
Nicklas Bendtner and Park Chu-Young's departure have further limited Arsenal's options in attack but Giroud says the club will increase their attacking options with a new striker before the season starts.
"I can tell you Arsenal will add a striker to the team," he told InfoSport+. "We need another striker. Great clubs have several good strikers, who compete with each other."
The news will swell rumours regarding the imminent addition of Carlos Vela, after Real Sociedad admitted Arsenal are in talks over activating the Mexican's release clause with the La Liga side.
Vela endured an inauspicious career in north London, failing to break into the first team on a regular basis but last season showed signs of finally fulfilling his potential with 19 goals coming in all competitions for Sociedad.
Arsenal manager Arsene Wenger's failure to make additions to his attack was viewed as among the reasons the club failed to sustain their bid for the Premier League, despite leading the table for much of the campaign.
Having played a central role for Arsenal last season, Giroud is now hoping to become a central figure for France during the 2014 World Cup.
After overcoming his 16-month goal-drought, Karim Benzema is first choice to lead Didier Deschamps side's attack but after scoring three goals in the warm-up games for the World Cup, Giroud is putting the Real Madrid forward under pressure.
Giroud added: "It would kind of be a disappointment (to miss out), because I think I've done well in the warm-up games.
"But there is a coach and you have to respect his choices. But that's not my primary concern, nor will it stop me sleeping right now.
"The important thing is to prepare yourself well for the first game and make yourself available for the team and the coach."