France boss Didier Deschamps has revealed that Olivier Giroud is not fully fit after recovering from a toe injury, due to which he was not selected for the national side in the previous international break. The Frenchman was among France's standout players in the European Championships in the summer and has assumed the number nine role in the absence of Karim Benzema, who has fallen out of favour with the manager.
Giroud is yet to make a single start in the Premier League thus far, albeit making five substitute appearances, scoring two goals in the process. He has turned out to be a brilliant fallback option for the manager, who saw Giroud score a brace against Sunderland after coming off the bench and helping the Gunners take three crucial points as they look to challenge for the title.
The Gunners are pretty light up front at the moment, with Alexis Sanchez reported to have picked up a calf strain while Lucas Perez is still recovering from an ankle injury and Danny Welbeck will only be available next year. Meanwhile, Hector Bellerin is also expected to miss the rest of November with a ligament injury.
Deschamps insists that Giroud's lack of games for Arsenal has not dissuaded him in his bid to use the striker in a starting role for France, who are comfortably placed in their group for the World Cup Qualifiers. The 30-year-old could be in the starting line-up in the qualifier against Sweden and also in a friendly against Ivory Coast next week.
"He [Giroud] is not 100 per cent fit, I know it and he knows it too," Deschamps told a media conference, as quoted by Four Four Two. "He has started one match [this season] because he was injured, and that is why he couldn't be with us last month. But do not interpret that in one way or in another.
"I took him in September even though he hadn't played, and he played the first and the second game. I know what Olivier is able to do and Kevin [Gameiro] too. All this plays a part in my thinking."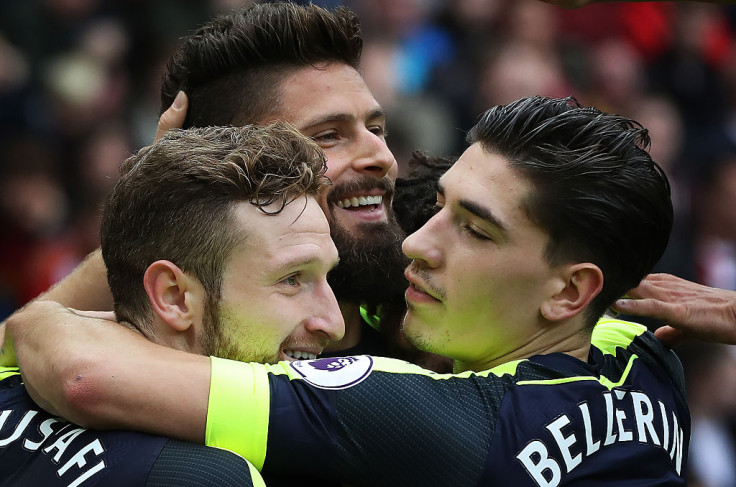 The Gunners will be hoping that Giroud is back in form before the end of the international break, especially with games lined up against Manchester United and Paris Saint Germain, which can make or break their quest for the Premier League title and bid to top the group in the Champions League respectively.