Arsenal Target Douglas Costa: 'If an Offer Came, I Would Take it Immediately'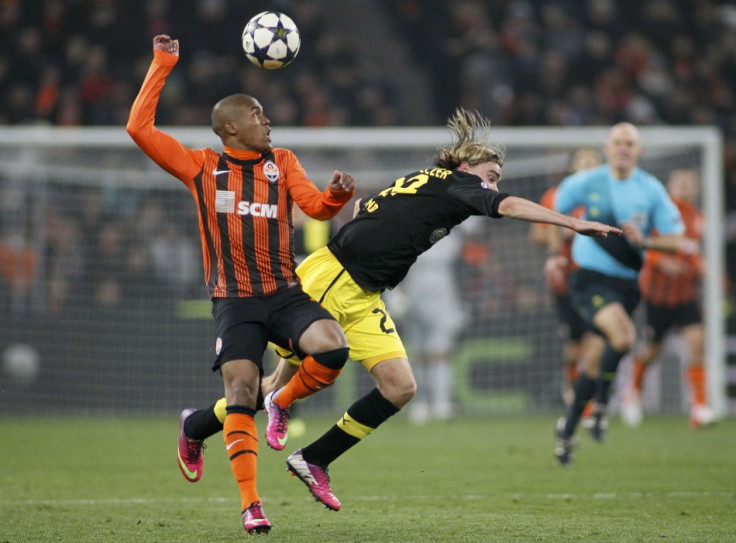 Arsenal's rumoured midfielder target Douglas Costa has revealed that he is ready to leave current employers Shakhtar Donetsk.
The Brazilian midfielder is ready to quit the Ukranian club with Arsenal and Tottenham willing to offer him a way out.
Costa has been looking for a way out of the club all through the summer, following the unrest and Ukraine's conflict with Russia.
The 23-year-old midfielder admitted that he would jump at a chance to move away from Shakhtar and believes playing for a big club in Italy or England will improve his chances of being called up to the national team.
"If an offer came, I would take it immediately. I think I am ready for a big club," Costa said, as quoted in the Express.
"Moreover, playing in a league like Serie A or the Premier League, I would have more chances of being called up to the Brazil national team," the Brazilian added.
The Gunners have been long-term admirers of the attacking midfielder and could be interested in signing him, if rumours regarding Lukas Podolski's exit persist.
Costa is said to have a £40m release-clause in his contract, and the Ukranian club's president Sergie Palkin is insistent that any interested club should meet his clause to have any chance of signing the player.
However, Shakhtar manager Mircea Lucescu recently admitted that Costa could be sold if the price was right, giving interested clubs hopes of landing the player for a lesser fee than his release clause.
"I am sure that things will come to the fore in the next few week," Lucescu said, as quoted in the Express.
"For me, all the players are transferable for the right price. Every year, some players go and some players arrive. It's normal that players will want to leave at some point," the Shakhtar manager added.
© Copyright IBTimes 2023. All rights reserved.