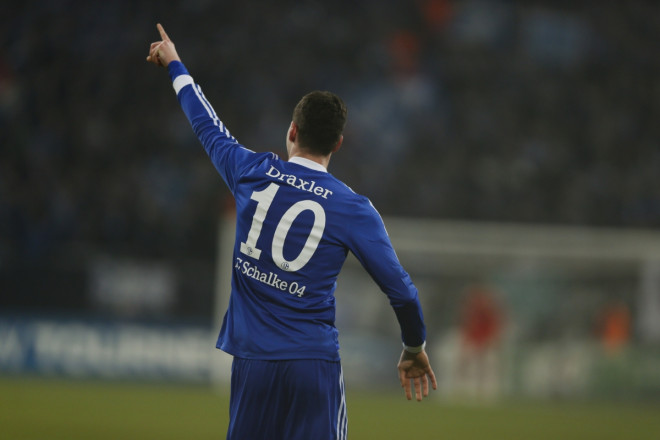 Arsenal target Julian Draxler has revealed his admiration for Real Madrid superstar Cristiano Ronaldo on the eve of his side's Champions League showdown with the Spanish giants.
The Germany international remains one of the most sought after players in Europe with the Gunners understood to be favourites to sign him this summer, but for now the 21-year-old's focus remains on Schalke's campaign.
The Bundesliga outfit are hoping to recreate their stirring European run that saw them reach the semi-finals of the tournament three years ago, but in order to do that the club must first find a way to derail Real Madrid's bid to win their first European title in 12 years.
Ahead of Wednesday's meeting, Draxler has paid tribute to Ronaldo, admitting it is an aim of his to model his own success on that of the former Manchester United hero.
"Who doesn't love Ronaldo?" Draxler told Der Westen.
"He's currently the best footballer in the world, why wouldn't I love him? Even with world class players at Real Madrid, he stands out.
"I like his ambition, his will. In 2008, Cristiano won the Ballon d'Or for the first time and he did not let up until he had it in his hand once more."
Bayern Munich and Borussia Dortmund eased their way past competition from the rest of Europe last season and the former's domination of the tournament has shown no sign of waning as of yet.
Although Dortmund's campaign has been less convincing this season, the memory of Jurgen Klopp's side dismantling Real Madrid in last season's semi-final is still fresh in the memory of Draxler, who hopes his side can upstage the La Liga leaders.
"We hope that he can screw up the Real Madrid show. No one expects us to play Madrid off the park, but you can ask us to put up a fight that leaves us with a chance for the second leg.
"Dortmund led the way last year and we showed three years ago against Inter that it's possible."