City and Liverpool to Tempt Arsenal Star - Report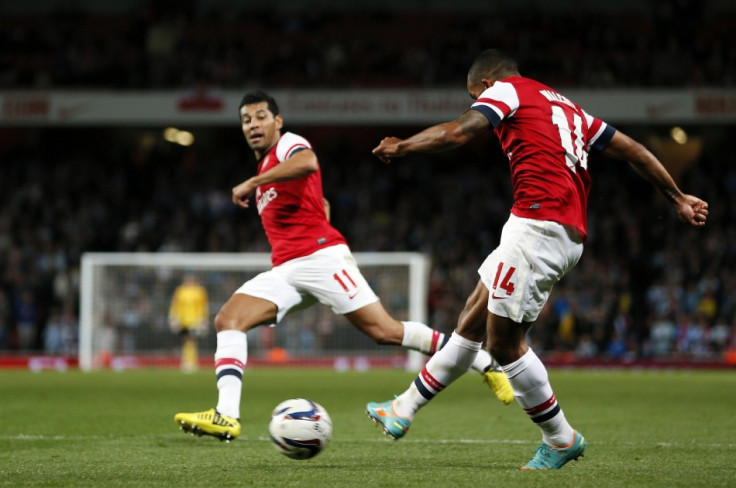 Manchester City and Liverpool are reportedly prepared to offer Arsenal winger Theo Walcott a way out of the Emirates. The 23-year-old is currently negotiating an extension to his contract, which expires next summer. However, progress has been halting at best, with disputes over pay and the player's position.
Walcott has asked for a more central position at the club, a striker's role. This is something Arsene Wenger is reportedly considering but the manager has insisted he will not be rushed into playing Walcott there and will do so only when he feels it is the right time. In addition, the club is unwilling to improve on its present offer of £80,000 per week (Metro reports Walcott is asking for £100,000). This stand-off could see the England international leave the club, maybe even in January, as Wenger will want to avoid losing him for free next year.
There is considerable interest in the player from outside the Premier League too, with Italian champions Juventus and at least one Russian club believed to be monitoring the former Southampton star.
Should Walcott move to either City or Liverpool, will he get his wish to play, regularly, as a striker? That is unlikely... particularly at City, where Sergio Aguero, Carlos Tevez, Mario Balotelli and Edin Dzeko will stand ahead of him in the pecking order. The list is slightly less daunting at Anfield, with only Luis Suarez and Fabio Borini as first-choice strikers. However, given Suarez's form (he scored a hat-trick against Norwich City to lead the club to their first Premier League win of the season) and the fact that new signing Borini - a striker by trade - has been shifted out wide to accommodate the Uruguayan, Walcott may not fancy that move either.
If a striker's role is so important to him, a shift to the Italian league may not be a bad idea. For all his faults, Walcott has pace to spare, a serious advantage in Italian football. But here too, he will have to contend with the likes of Mirko Vucinic, Fabio Quagliarella, Alessandro Matri and Emanuele Giaccherini, not to mention the on-loan Nicklas Bendtner.
It seems Walcott will, as Wenger suggests, have to bide his time and wait to be deployed as a striker. In any case, his future at the Emirates still hinges on impressing Wenger enough to agree to that wage demand and change in position, and the best way to do that is on the pitch.
Walcott is expected to start for Arsenal in their Champions League game midweek, against Greek side Olympiacos and with a deadline hanging over his head, he would be well advised to start putting in consistent performances.
© Copyright IBTimes 2023. All rights reserved.