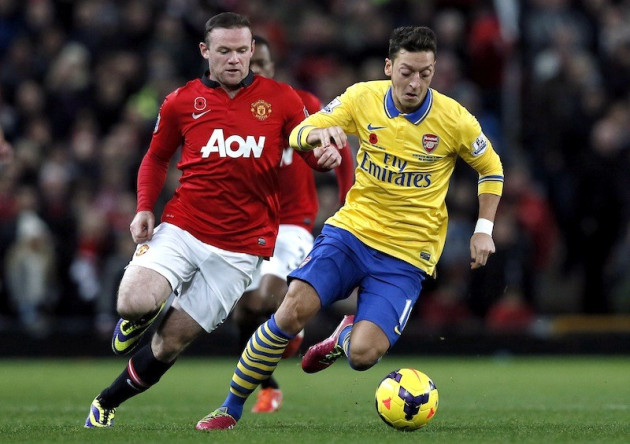 Thierry Henry believes that the arrival of Mesut Ozil along with Olivier Giroud and Aaron Ramsey reaching their peaks has caused the perfect storm for Arsenal as the side sit at the top of the Premier League.
The Gunners have had a wildly successful season so far and have taken full advantage of Chelsea, Manchester United and Manchester City re-adjusting to new managers to make a serious challenge for the title.
They also got through a so-called 'Group of Death' in the Champions League to qualify for the last 16, although the side were unable to take a win against Napoli in their final match and as a result finished second.
And Henry has admitted that he would love to play alongside Ozil, who has turned out to be a brilliant summer signing for Arsenal and kick-started their journey back to the top of the table.
"I would have loved to have played with him," he told reporters. "He reminds me in a different way of Robert Pires.
"He is the type of guy who if you give him the ball he will give it back to you. He plays like he's playing at home in his garden and nobody is around him.
"It's weird, but that's the kind of player you want. You need to be composed on the ball and I think he's brought that to Arsenal Football Club."
Henry also held special praise for Giroud who has been in his best form for Arsenal this season, shouldering much of the burden in front of goal and handling it brilliantly.
"As a striker you need to pass the line of being a killer," Henry explained. "He has that in his eyes now. When he first arrived it was like he wanted to see what it was like in England, but now he doesn't want to miss a game.
"He wants to be the guy that makes his team win or the guy that sets up a goal. He wants to be the guy and that is what you need if you want to be the guy. You need that attitude."
And lastly the former Gunner, who has a statue dedicated to him outside the Emirates, insisted that Wenger should be given huge credit for standing by Ramsey, who has been the other player this season to show his potential and establish himself as one the club's best performers.
"Everybody knew that he had talent and Arsene even more so," the Arsenal legend said. "Some people gave him some stick for standing by him. He's not really surprised me.
"What he's been doing has been tremendous and hopefully he can do even more for us."