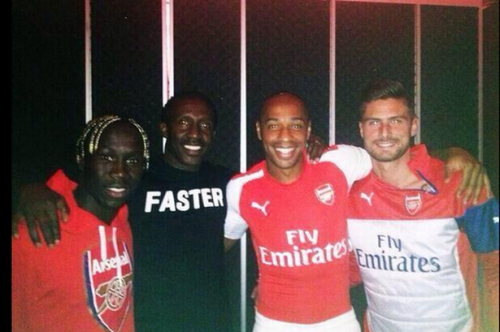 Arsenal have called a special media conference on Monday to make a unique announcement at The Emirates Stadium – sparking speculation as to the nature of the revelation.
Rumours are rife on social media that the announcement could be linked with a renewal of manager Arsene Wenger's new contract, the confirmation of a new kit deal with sports manufacturer Puma or the unveiling of a statue of Dennis Bergkamp.
With Wenger having all-but ruled out making a new signing before the end of the January transfer window, it appears unlikely Arsenal are set to make a shock addition that hasn't prevented a furore of discussion regarding the announcement.
Wenger's contract expires at the end of the season and reports at the start of January suggested he was on the brink of agreeing a two-year extension at Arsenal.
Though the Frenchman was coy on any update on talks regarding a new deal on Thursday, Wenger said last week: "There is a point where you have to decide and there is a point where you have to make your decision public."
Despite the status which Wenger has at Arsenal, it would be a surprise if the extension of the new deal accompanied was accompanied by grand fanfare.
The more likely option is that Arsenal will confirm Puma as their new shirt manufacturer in a five-year deal worth £150m with their current deal with Nike set to expire at the end of the current season.
Puma's imminent deal with Arsenal was prematurely announced in October when former British athlete Lindford Christie posted an image on Twitter of Thierry Henry wearing the new kit. The picture was later deleted.
Should the deal be confirmed, Arsenal's would be among the most lucrative in the Premier League, topping Liverpool's £25m-a-year deal with American manufacturer Warrior and Manchester United's association with Nike.
The alternative announcement could surround the unveiling of the statue depicting club legend Bergkamp, which Arsenal confirmed last year would be erected before the end of this season.
The Dutchman scored 120 goals in 423 games for Arsenal across an 11-year career in north London and the statue becomes the fourth to be put outside the Emirates Stadium after Herbert Chapman, Tony Adams and Henry were all celebrated to mark the club's 125th anniversary.